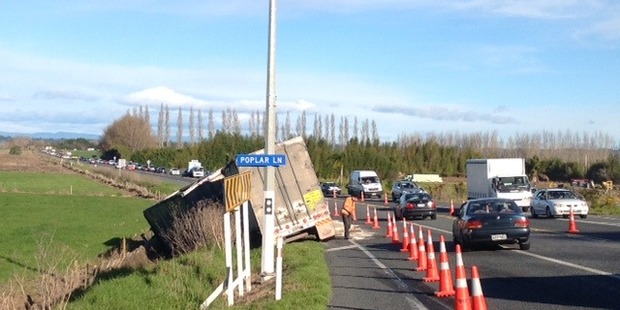 UPDATED 3.20pm: Delays are expected to traffic travelling along State Highway 2 at Papamoa after two trucks crashed near Poplar Lane this afternoon.
Cranes have just arrived at the scene to help hoist a truck and trailer unit back onto the road.
Acting Sergeant Ron Scott said a truck had been pulling out of the lane onto SH2 headed for Te Puke when a truck and trailer unit travelling along the highway from Mount Maunganui collided with it about 2.20pm.
The truck and trailer was forced off the road and the other truck's fuel tank ruptured, spilling fuel onto the road.
No one was hurt in the crash but emergency services were busy trying to mop up the spilt fuel.
Mr Scott said people travelling in the area should expect delays for the next few hours.
A reporter at the scene said both lanes were open for now but traffic was backed up for quite some distance, travelling slowly.
It was expected the highway would be reduced to one lane when the cranes started working.
EARLIER: Two trucks have crashed on State Highway 2 at Papamoa.
Emergency services are at the scene where the two large trucks collided, near Poplar Lane at 2.23pm.
Police Northern Communications Inspector Andy Brill said there was no injury to either driver but one truck has gone off the road.
While there was no blockage of the highway, it was likely a crane was needed to get the truck back onto the road, Mr Brill said.