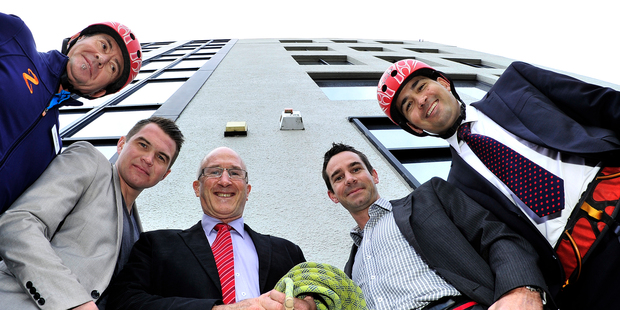 Tauranga bosses and community leaders are going to be dropped off the side of a six-storey building as a fundraiser for kids.
The Foundation for Youth Development (FYD) has arranged for a number of well-known local leaders to abseil off the side of the Inland Revenue building in Elizabeth St, Tauranga, to raise money for local kids involved in the foundation's Kiwi Can and Project K programmes.
Volunteers for the Drop Your Boss event on September 3 include National MP Simon Bridges, Holland Beckett lawyers partner Bill Holland and The Hits host Will Johnston.
Mr Holland said he had some experience as he'd scaled the Tauranga trust building, but that was in 1968.
"It's going to be fun, I haven't done anything like this for an awfully long time. The scary part will be the first steps," he said.
The leaders selected raise funds through their businesses and organisations, which Mr Holland said was a great incentive for the staff to watch him do it.
"They'll pay a lot of money to be able to chop that rope," he said.
All proceeds would go towards Kiwi Can and Project K being run in schools in the Western Bay of Plenty that reach 2400 children each year aged 5 to 15.
The programmes involved wilderness adventures, community challenges and mentoring to build self-confidence and teach life skills.
"It's such a good fit to have people in the community do this for kids we want to get out and inspire to challenge themselves," FYD regional manager for Bay of Plenty Dan Allen-Gordon said.
"We want them to do something that scares them every day."
The foundation was aiming to raise $20,000 for the cause, but the high-profile people involved could help surpass that amount.
He said the Tauranga building was higher than the buildings used at events in Waikato and Marlborough, estimating its height to be around 30m.
There were 18 leaders on board to abseil the building so far, but Mr Allen-Gordon said he was on the lookout for more "fearless" volunteers.
Community leaders or bosses interested in being a part of the event can email him at dan.allen-gordon@fyd.org.nz