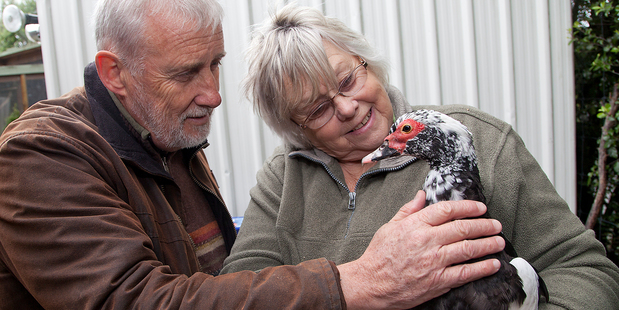 Spending a day helping out at the Oropi Native Bird Care Trust was a real eye opener for staff reporter John Cousins who never previously appreciated Chrissy Jefferson's single-minded determination to save sick, injured and orphaned birds.
I thought I'd heard it all when Oropi's so-called crazy bird lady Chrissy Jefferson told me matter-of-factly that she nursed seabirds suffering from hypothermia.
But as the hours ticked by listening to her stories while I brushed bird poo off rocks and cleaned enclosures, I concluded she was not crazy or even a little bit eccentric.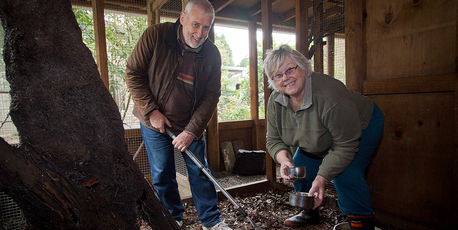 In fact getting downy and dirty with Chrissy brought home the sacrifices and passion that drives this saviour of our precious native birds.
Not even being vomited on by an albatross shook the resolve that has seen her save tens of thousands of birds during her 26 years living in New Zealand.
I only spent one day helping out with the dirty jobs around the Oropi Rd bird hospital, but there's no respite for Chrissy whose bottomless pit of love and generosity just goes on and on.
She and husband Errol don't even get Christmas Day off - such is the relentless demands of the hospital in which they expect nothing and give everything for their feathered and downy friends.
The former vet nurse likes it when locals pull her leg, calling her the crazy bird lady of Oropi, because she reckons you need to be a bit crazy to spend 365 days a year caring for sick, injured and orphaned birds.
Her chatty personality and vast knowledge has made her a favourite for public speaking and she wants the council to do more to protect the little blue penguins who burrow, barely noticed, around the shorelines of Mount Maunganui's Moturiki Island (Leisure Island) and Mauao.
One thing she would really like to see was for the dog-free zone to be extended a short distance past Moturiki to the other side of Shark Alley. Dogs roamed the island where she released penguins back into the wild, and she was shocked when a burrow was ripped apart.
Even though my visit coincided with the quiet time of the year for the Oropi Native Bird Care Trust, there was still so much to do that it boggled the mind to think what the place must be like when it got really busy in the warmer months.
Donations such as Farmlands supplying free food to help with the recovery of the duck shot through the head, helped make ends meet. Chrissy stoically acknowledged that she and Errol met most hospital costs and they never sought compensation from the Rena payouts, despite taking in little blue penguins during the later stages of the emergency.
The Kiwi connection for this dedicated Lancashire-born woman began when Errol arrived as a guest at the accommodation and restaurant business she ran in an ancient Scottish manor house.
"He booked in for one night and the rest is history."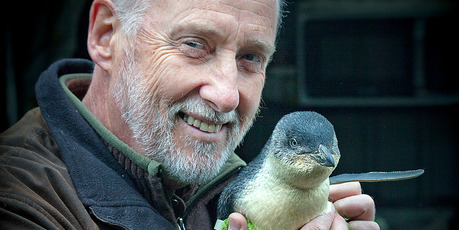 Amazingly, Chrissy has not had a holiday in the 26 years since she arrived in New Zealand and began caring for birds.
When she was not busy administering medicines, feeding and cleaning enclosures, she was giving advice to people who found injured or orphaned birds.
One call that came through while we were busy in the seabird enclosure was from a person who found a pukeko with a broken wing.
Having established the break was high up by the shoulder, the caller received the bad news that there was nothing Chrissy could do.
Her latest patients include four little blue penguins: Grandad, Mrs Brown, Winnie and Dermott. Grandad was elderly and did not put up much of a struggle when picked up - becoming the automatic choice for a photo.
The aftermath of the Rena disaster saw the numbers of penguins in recovery reach a record 24 birds - each recognisable and given a name by Chrissy.
Two tui, Nelson and Napoleon, made interesting companions as I removed droppings and raked the litter on the floor of the aviary, fluttering and scrambling to and fro, coming so close I could feel the wind from wings. I dared not look up.
Nelson suffered a form of paralysis after consuming hicane kiwifruit spray and never flew again.
One of her favourite stories was about a tui called Toot Toot who had an uncanny ability to mimic human speech.
Toot Toot's repertoire included "no thanks, I will have a beer" and "hurry up, go piddle". The bird had overheard Errol's response to Chrissy asking him if he wanted a coffee. And "go piddle" was Errol talking to the dogs when he took them down the paddock at night.
The future of the bird rescue haven weighs heavily on 68-year-old Chrissy who has started a Fledgling Club to introduce school children to native birds and give them little study projects.
"I am teaching them the rights and wrongs of caring for wildlife and animals in general."
When I mentioned that one of the highlights of my visit had been getting up close to New Zealand's native owl, the morepork, she confessed they were part of what inspired her.
Chrissy got a real buzz watching the moreporks diving and swooping catching flying insects attracted to a light in the owl enclosure.
But her real motivation, and what kept her going, was the warm fuzzies she always experienced when a bird was released back into the wild. "It's a lovely feeling."