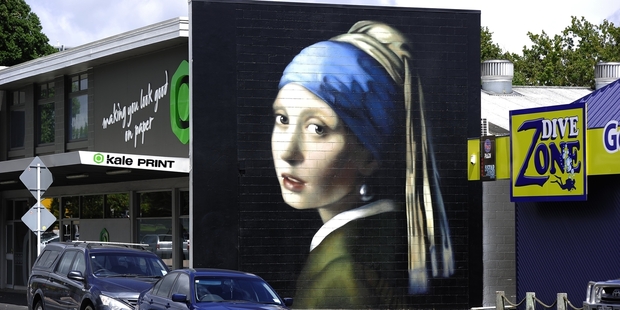 An inner-city project could see up to 15 giant works form the basis of an art trail that is expected to attract international interest.
Tauranga aerosol artist Owen Dippie has been using central city buildings as his canvas for his latest project, Larger Than Life , for the City Centre Action Group.
Harrington House would be Mr Dippie's next mega-canvas and would be based on a Renaissance or classical masterpiece although the exact work would remain a closely guarded secret.
Mr Dippie's manager and wife, Erin, said the Harrington House mural would begin as soon as there was a run of fine weather.
Mrs Dippie said the project was privately funded through small businesses and the owners who had allowed them to use their buildings. Others had contributed donations through Mr Dippie's website.
Mrs Dippie said the project was about rejuvenating the central city.
She said marketing the artwork as an art trail would be a smart move for businesses because it could draw people into the city.
City Centre Action Group project team member Anne Pankhurst said the project would make the city look "vibrant and alive". The murals had already become part of the fabric of the city.
Annie Hill, communications manager for Priority One, said the art trail would become an attraction and would help bring people into the city.
She said Mr Dippie had a "very significant national and international reputation" and was a very sought after artist.
"I know people have asked Creative Tauranga and Tourism Bay of Plenty for maps of his artwork and there's only a few up around the city."