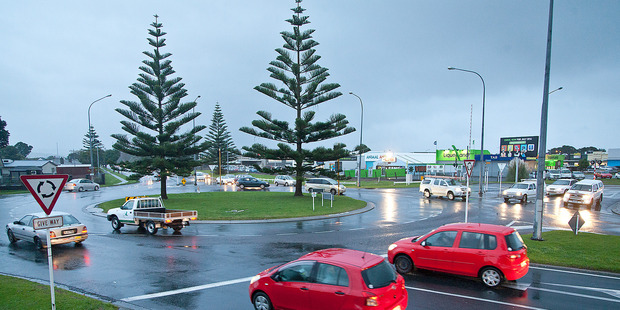 A multi-million dollar flyover is being planned for one of the city's busiest intersections on Girven Rd to curb traffic congestion and prevent crashes.
Roading officials have revealed they expect to announce one of three flyover options for the notorious intersection near the Bayfair shopping centre later this month.
The Bay of Plenty Times yesterday broke the story about how police were targeting motorists using a left-hand lane to illegally turn right around the roundabout putting other motorists in danger.
Police said it was only a matter of time before someone got seriously hurt and police would target the intersection until people's driving behaviours changed.
The New Zealand Transport Agency has been looking at different options to ease the congestion at the busy roundabout which is used by about 24,170 vehicles each day.
The options included traffic lights costing up to $40 million or a flyover that could cost nearly $100 million.
However, NZTA highway manager Brett Gliddon yesterday confirmed the option of traffic lights did not provide the long-term improvements to congestion and safety required.
Mr Gliddon said three flyover options had been identified and were presented to the community at an open day at Baypark in April this year and an announcement of the preferred flyover option was expected to be made to the community later this month.
Residents who lived near the roundabout were concerned about the traffic congestion.
Waimaria Awa's Girven Rd driveway opens on to the entrance to the roundabout, at the Bayfair Shopping Centre.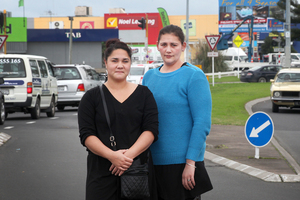 A single lane queue from right-turning or straight-ahead traffic reached beyond the Gloucester Rd traffic lights several times a day, she said.
By comparison, the left-turning or straight-ahead lane remained empty most of the time. "They are not making efficient use of the road. Why is there only one lane always congested and the other always free?
"Motorists are taking their own initiative.
"I can see where they are coming from," she said.
"This lane is a waste of time. Going right around the roundabout is where people are going."
Ms Awa said she used the Bayfair roundabout daily, when she eventually was let into the traffic.
"It's ridiculous in the morning at peak time ... It's very frustrating. Something needs to be done."
Ms Awa said she would like to see traffic lights on the roundabout to make things safer. The intersection was "too dangerous" otherwise.
"I think the safest thing to do is put some lights in."
At some peak times east-bound congestion on Maunganui Rd stretched beyond the Hewletts Rd flyover, more than 1km away.
The issue has ignited plenty of feedback, with readers expressing their views on the Bay Times' Facebook page and through comments below.
Read the Bay of Plenty Times editorial on the issue here.