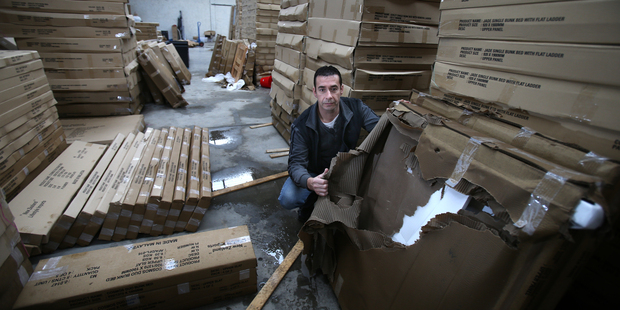 A major New Zealand importer of kitset children's beds and bunks has been forced out of business for up to seven weeks after his Greerton warehouse was flooded in last week's storm.
"It is just heartbreaking," New Zealand Lifestyle Imports director Gary Jefferson said.
The Glenlyon Ave office and warehouse was hit hard when the drain running behind the building overflowed on Wednesday evening.
Mr Jefferson became another victim of downstream drainage problems caused by the Waimapu River failing to cope with the huge volumes of water trying to reach the estuary.
The impact was felt most severely be the Greerton Marist Rugby and Netball Club and commercial premises in parts of Glenlyon Ave and Roxanne Place.
Mr Jefferson said filthy black water poured into the building from every direction.
A third of his stock was so water damaged that it was only fit to be dumped. His business was on hold until he had completed the task of shifting his remaining stock to temporary premises and then cleaning and refitting the Glenlyon Ave building.
Although his $100,000 losses were covered by insurance, his business would be impacted for months to come because of the long lead time to source stock from a Malaysian manufacturer followed by the month-long delivery.
He estimated it would take until the middle of next week to clear out the warehouse and office, including dumping up to 12 truckloads of contaminated hardwood furniture.
His insurance company was now poring over the fine print of his business interruption cover and he was unsure whether it would pay out.
Mr Jefferson had closed his online store and did not expect to be back trading for up to seven weeks.
"I'm losing sales already. I have gone from a quite good turnover to nothing. In the meantime people will be buying from elsewhere."
Mr Jefferson said he had not seen anyone from the council since the flood. "They knew we were one of the worst hit buildings but they never came down."
He said the flooding of the Waimapu River was an ongoing saga and the council needed to do something.
Mr Jefferson may be forced to find new premises if his insurance company refused to renew his policy or hiked the excess to the point where it was unaffordable. He has found commercial rents in Tauranga were so expensive he could not afford to move.
Tauranga City Council communications adviser Marcel Currin said he was not aware of Mr Jefferson's particular situation but the council had done its best to help those it knew had been affected.