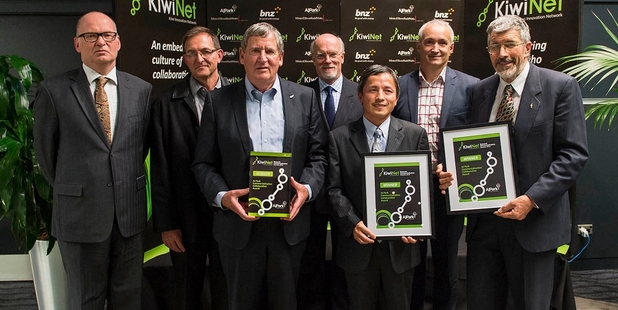 The national titanium technology grouping, in which Tauranga's Titanium Industry Development Association (TiDA) plays a pivotal role, has won a major award at the second annual KiwiNet Research Commercialisation Awards.
Titanium Technologies New Zealand (TiTeNZ) - a collaboration between TiDA, University of Waikato, Callaghan Innovation, GNS Science, University of Auckland, and a number of industry partners - picked up the AJ Park Commercialisation Collaboration Award at a ceremony in Auckland.
"This year the awards demonstrated the incredible variety of partnerships from unique one-to-one partnerships to larger collaborations," said lead KiwiNet Awards judge and KiwiNet investment committee member Dr Andrew Kelly, executive director at BioPacificVentures.
TiDA chief executive Warwick Downing said: "The TiTeNZ group is large as we are working closely and sharing resources to create a platform technology for New Zealand companies."
TiTeNZ's governing body is chaired by well-known Tauranga businessman Jon Mason, which Mr Downing said helped to ensure the research maintained a commercial focus and that the researchers met their objectives.
"By celebrating today's innovation game-changers we hope to inspire the next generation of researchers and entrepreneurs," said Dr Bram Smith, general manager of KiwiNet.
The other winners were:
BNZ Supreme Award: University of Canterbury and Tait Communications/Wireless Network Partnership
Commercial Deal Award: Kifunensine, Glycosyn/Callaghan Innovation
Minter Ellison Rudd Watts Research and Business Partnership Award: University of Canterbury and Tait Communications / Wireless Network Partnership.
Researcher Entrepreneur Award: Alistair Jerrett, Seafood Technologies, Plant & Food Research.
People's Choice Award: Plant & Food Research and Precision Seafood Harvesting.