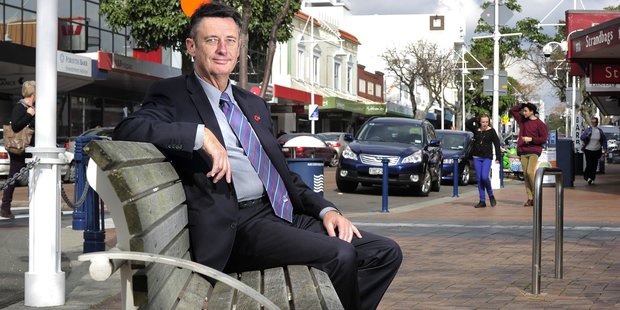 Agreement to establish a nightshelter for Tauranga's homeless is only days away from going unconditional after the city council agreed to remove the final barrier to the scheme.
The council-owned reserve occupied by the youth hostel in a cul-de-sac at the bottom of Elizabeth St will get a change of use to allow it to become a 10pm to 8am nightshelter for homeless men.
The decision by the council yesterday means the sale and purchase agreement between the Tauranga Moana Nightshelter Trust and the Youth Hostel Association can go ahead. It also opened up the possibility that the Tauranga Foodbank, which occupied a semi-derelict building in Dive Cres, could shift to the cul-de-sac.
Mayor Stuart Crosby told the Bay of Plenty Times afterwards there were potential synergies between the nightshelter and the foodbank.
He said the Artsville concept for the area had run out of steam and the council needed to have a conversation about the future of the cul-de-sac.
No building had been identified for the foodbank.
Trust spokesman Mike Mills told the council negotiations to purchase the buildings had gone well and there would be enough money left over to provide a financial cushion during the nightshelter's establishment phase.
He reassured a disabled neighbour who felt vulnerable about having so many homeless in close proximity to her home that security fencing would be erected around the site.
"The issue of fencing is as important to the trust as the neighbours ... money has been put aside to address security issues," he said.
Mr Mills said the nightshelter would not open until security requirements had been met and neighbours were confident. Homeless people would not be allowed to loiter in the cul-dec-sac and they could only be in the area to enter and exit the nightshelter.
Inappropriate behaviour and loitering would be dealt with by staff or the police.
The nightshelter would reduce the number of people sleeping rough and would be alcohol and drug free, with a supervised area for smoking cigarettes, he said.
Once the homeless had checked into the nightshelter they had to stay there until the morning, with the facility closed and secured from 10pm to 8am.
They were responsible for their own meals, with the shelter providing basic essentials, and paid a nightly rate deducted from their social welfare benefit.
Mr Mills said homeless people were already prevalent in the area, creating a nuisance with their uncontrolled activity. "The presence of the nightshelter will improve the situation rather than exacerbate it."