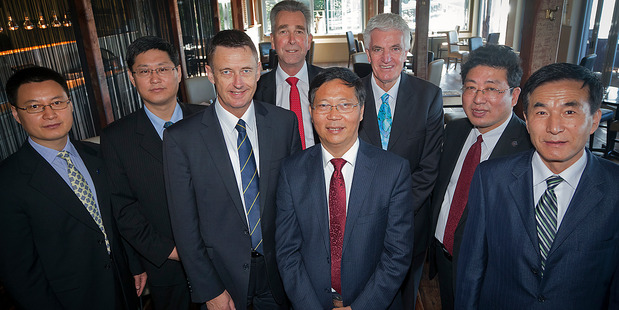 A joint China-Tauranga research centre is a step closer after a meeting between Yantai University officials and Tauranga education leaders.
A delegation from Yantai University toured Tauranga yesterday and met Mayor Stuart Crosby and staff from Bay of Plenty Polytechnic and University of Waikato.
In April, a statement of intent was signed in China during a visit from a high-powered business and education delegation from Tauranga including Mr Crosby, Professor Chris Battershill, Bay of Plenty Polytechnic chief executive Alan Hampton, Education Tauranga chairman Graeme Lind and others from the education sector.
The group developed a soon-to-be-implemented exchange programme for students and staff at Tauranga's tertiary institutes to spend time in Yantai studying and teaching, and vice versa.
A joint research centre will be established, allowing experts from both countries to draw on each other's strengths.
For example, Yantai has developed ways of using sea lettuce to create biofuels.
Mr Crosby said progressing the education initiative was "tremendous" and would strengthen Tauranga's relationship with its sister city.
He said there were many synergies between Tauranga and Yantai - they were both coastal cities that produced a lot of food with marine science industries.
"The students who come here will ultimately become ambassadors for Tauranga and New Zealand. It's a very good package all around.
"International students generally bring a lot of value to our economy and many people in Tauranga may not know that we actually have a lot of international students in Tauranga."
The chairman of the board of governors for Yantai University Professor Mingde Cui, speaking through an interpreter, said both cities had a good co-operation with the economy, education and technology.
He said Mr Crosby had given the delegation a brief introduction to Tauranga as a quickly developing city.
"We also had a very constructive discussion with Bay of Plenty Polytechnic and the rest of the Tauranga party regarding the student exchange programme and the staff exchange programme.
"We have arranged an agreement in several areas, I sincerely believe in the very near future we will achieve very good results with the staff programmes and the student programme on both sides."
Bay of Plenty Polytechnic council chairman Ian Turner said it was important to strengthen the relationship between Tauranga with Yantai University and he looked forward to welcoming their students to the city.