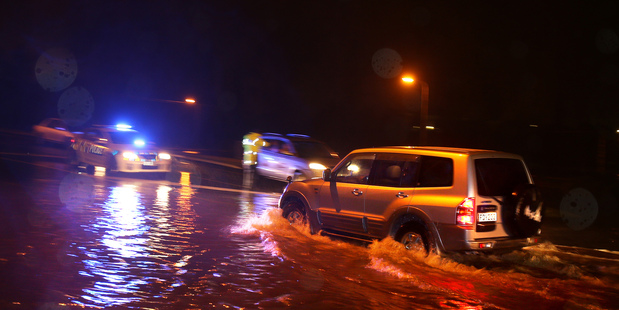 UPDATED 7.38pm: The high tide has brought flooding across the lower Oropi area tonight as the Waimapu River burst its banks.
The river has spread over Oropi Rd, State Highway 29 and fully submerged the Greerton Park.
Local businesses in low-lying areas have flooded and motorists are being urged to drive with care.

UPDATED 4.51pm: State Highway 29 at Poike is flooded and impassable, New Zealand Police has said.
Traffic in the area is heavily congested, they said.
"Flooding is not expected to recede until after high tide, which is due at 5:40pm.
"Contractors are working to deploy warning signs and detours."

UPDATED 4.32pm: A slip has covered one lane on upper Pyes Pa Rd near Taumata Rd, the New Zealand Transport Agency has said.
The slip is believed to be outside 1932 Pyes Pa Rd.

UPDATED 4.15pm: Upper Ohauiti Rd will be closed overnight tonight after two underslips, an Inroads spokesperson has said.
She believed the slips had occured from 1234 Ohauiti Rd and up, with land falling from under the road.
The slips had hollowed out underneath half a lane at one point and three-quarters of a lane in another spot.
New Zealand Police confirmed the slip had closed the road and said contractors were on their way.
Menawhile in Te Puke, a crew is working to clear a slip covering two lanes of Te Matai Rd.

UPDATED 4.06pm: A land slip on Te Matai Rd is covering both lanes.
The Western Bay of Plenty District Council said they were aware of the slip but were not sure if traffic was being diverted or what was being done to clear the road.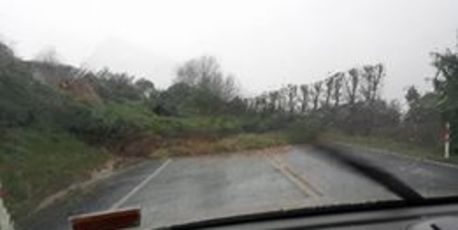 EARLIER 2.51pm: The bottom of Oropi Rd is now closed due to flooding.
It had been closely monitored earlier today by the Tauranga City Council and was closed at 2.50pm.
Cheyne Road can be accessed via Pyes Pa Rd.
The area around the Renner Park Golf Course has been known to flood and close the road during previous severe weather this year.
Roxanne Place nearby is also closed due to flooding and Maleme St is being monitored.