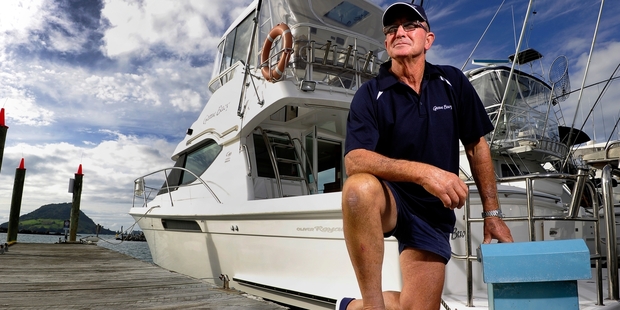 When Don Hyland's 12.5m launch named Game Buoy hit a submerged rock - ironically nicknamed Insurance Rock - near Motiti Island and began taking on water his heart sunk.
But having been a member of the Coastguard for 23 years, the Welcome Bay local knew he could rely on Tauranga Coastguard to come to his rescue.
On November 30 last year Mr Hyland said he and his fishing buddies were competing in a big game fishing competition, but after the weather deteriorated they had sought shelter on the eastern side of Motiti Island.
"I always knew the rock was there but it was submerged in the high tide. Just before the launch hit the rocks we were talking about the Rena disaster and the Resolution tug and I was momentarily distracted. It's quite embarrassing, really," he said
Mr Hyland said Game Buoy's rudder was wrenched back and a small hole formed after a bolt on the rudder was yanked out. One of the shafts and a strut on the vessel were bent and one of the propellers "looked like a cabbage".
The Tauranga Coastguard were busy so they contacted the Maketu Rescue Vessel.
Maketu's Eastpack Rescue vessel picked up Game Buoy before the Tauranga Coastguard TECT Rescue vessel took over and towed the vessel the rest of the way back to Sulphur Point.
"They were absolutely fantastic and communicated with me the whole way through the rescue," he said.
Mr Hyland, who was one of 103 people rescued by Tauranga Coastguard last year, said he could not speak highly enough of the organisation.
"It was a text-book rescue ... I would do anything for those guys to help raise donations and get more people to join up," he said.
The Coastguard MayDay fundraising appeal is to be held this month.
Graeme Hull is regional manager of the Coastguard Eastern Region, which also takes in the Tauranga, Maketu, and Waihi and Waihi Beach coastguard services.
Last year in the Bay of Plenty/Coromandel region, Coastguard responded to 358 calls for assistance, of which 81 were life-threatening situations, he said.
Mr Hull urged people to help the appeal.
"As a charity we rely heavily on donations and volunteers to keep the organisation going, and the MayDay appeal is an opportunity for people to help us do that," he said.
Mr Hull said Coastguard also encouraged boaties to become a member of the organisation and register their trips.
The MayDay appeal fundraising concept is asking people to donate an hour's pay to coastguard.
For more information or to donate, visitwww.hourforcoastguard.co.nz