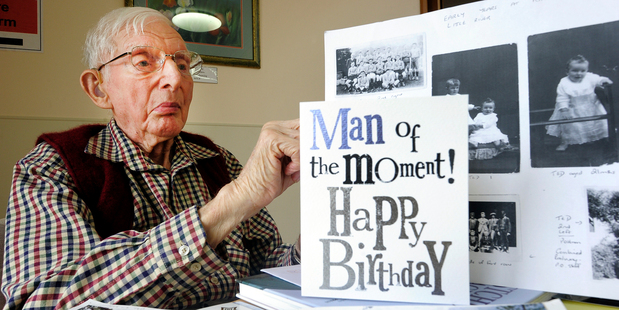 Ted Lee was always considered the delicate one of his family but he has outlived both his brothers by more than 30 years and, yesterday, celebrated his 102nd birthday.
"He was the middle of three brothers. He was always considered the delicate one," son David Lee said.
"He won't mind me saying but he was not well when he returned home from the war. My overall impression of him when I was quite young was that he wasn't a well person so it's amazing that we are sitting here on his 102nd birthday."
Mr Lee Jnr said despite being profoundly deaf, his father was in good health, which had surprised many people.
"I put it down to the way my mother looked after him. She was one of the old school where wives cooked and knitted," he said.
Mr Lee spent much of his life in the South Island but moved from Christchurch to Te Puke three years after the earthquakes and now resides at Carter House. His wife, Thelma, died 20 years ago but Mr Lee lived on his own up until he was 98.
Mr Lee was born on his parents' dairy farm in Puaha Valley, Banks Peninsula, on May 9, 1912.
He went to high school in Akaroa but returned home to help around the house at 14 when his father died.
On his return home, he got a job as a messenger in the local post office to help support the family, starting a 40-year career. Mr Lee worked his way up the ranks at the post office he became a delivery boy and biked 20 miles on shingle roads every day, then moved to the phone exchange and the front counter before becoming a post master in different towns around the South Island.
He had two sons and now has five grandchildren and nine great- grandchildren.
Mr Lee retired in 1968, which meant he has been retired for longer than he worked, Mr Lee Jnr said.
He also served in North Africa and Italy as part of the signals core during World War II between 1942 and 1945. He was in North Africa and involved in the communications as General Bernard Freyberg negotiated the surrender.
Due to his poor health, Mr Lee did not travel overseas with his wife after the war but, since her death, made five trips to Europe over six years.
The first of those trips was to his granddaughter's wedding when he was 88. He also took up cooking and baking after his wife's death so he always had Madeira cake and peanut brownies to offer guests.
Mr Lee Jnr said his father had always been a keen gardener and recalled the first thing he would always do when the family moved to a new house was dig a vege garden.