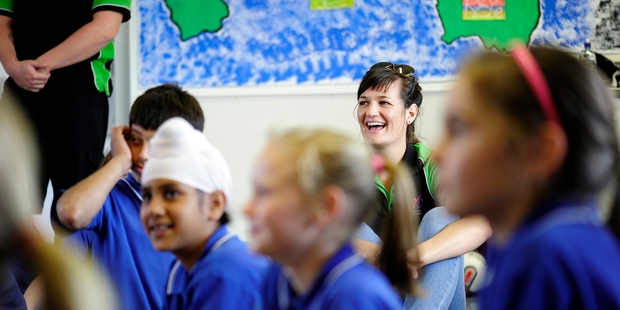 Walking into Room 24 at Papamoa Primary School, or the Kiwi Can classroom, you can instantly feel the positive energy.
In front of me, two dozen students sit neatly in their rows with their eyes forward and lips sealed.
When Kiwi Can team leader Cam Manderson says good morning to his class, he instantly receives an enthusiastic hello from all of the students.
The class is one of the first of the term where the students will not learn about maths or English.
Instead, they learn about integrity, something I definitely didn't learn about when I was their age.
Kiwi Can is a programme that teaches essential life skills and values such as resilience, respect, integrity and manners.
It is delivered in schools across New Zealand for children in Year 1 to Year 8.
Hundreds of students take part in the Kiwi Can programme in the Bay of Plenty.
The programme is built around five Cs: competence, confidence, character, connection and compassion.
Although Kiwi Can is a life skills-based programme, it focuses on other skills as well. It is about enhancing the capacity of children to gain benefits from the school environment.
The class began with a mihi (song), sung to the tune of We Will Rock You.
"When I'm at school I do what is right, when I am at home I never fight. Everywhere I go in my city I always show integrity. Kiwi Can, Kiwi Can, Kiwi Can. Kiwi, Kiwi, Kiwi. Can, can, can."
Each week there is a different focus for the children to learn.
When I sit down with the children, the focus of the class is being able to identify personal qualities that contribute to the sense of self worth.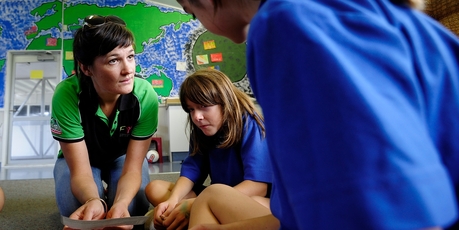 This particular class is under the umbrella of a three-week module on integrity.
We go outside to play a quick energiser, terminator tag, where honesty is a core value shown throughout the game.
Back inside Room 24, we nestle down on the mat to watch a short film about making good and bad choices, followed by a game in which the children are given different scenarios where they need to discuss the positives and negatives of a good and a bad choice.
Kiwi Can team leader Brittany Ellis, 24, says she has been working with Kiwi Can since September last year and has noticed first-hand in the playground the effects of the course.
"Some of the children had no idea about the sort of messages we teach before the classes started," she says.
"But they are quick to put them into action. We tell them to use their wits, to walk away or ignore when someone says something [negative] and you can hear them saying it, 'I'm going to use my wits'," she says.
"Some children are brought up with the right manners but some just have no idea."
Ms Ellis says the best part of her work is seeing how excited the children are to see her each week.
"The enjoyment on their faces is quite rewarding.
"You see some of the kids who are not confident enough to answer questions in their normal classes are confident enough to answer questions in the Kiwi Can classes."
Fellow Kiwi Can team leader Cam Manderson, 24, agrees that giving children new tools for life is the best part of the job.
"Just them taking on board the language, being able to give them the tools and seeing them implement that into the playground, and them coming out of their shells a bit more."
Mr Manderson, who has been a Kiwi Can leader for four-and-a-half years, says when the children first take part in role-plays some are quite nervous.
"But when they see other people do it they get up there and give it a go, them stepping out of their comfort zones, pushing each other, it's all about confidence building."
Mr Manderson says the programme is an important part of the children's lives, as it gives them different tools from an early age to help them deal with different situations.
"Just feeding them, I think a lot of stuff is getting missed out, core values, with other things taking preference."
Mr Manderson says the programme is taught through kinesthetic learning.
"It's hands-on learning, everything we do has a purpose.
"Even the energiser, there is a point to the games.
"We can link it into our theme, like integrity with terminator tag - you have got to make sure, if you have been tagged and no one has seen it, you have been honest and sit down.
"The kids don't realise it but they are actually doing it themselves, showing integrity."
Foundation of Youth Development regional programme co-ordinator Helen Whareaitu says there are eight Bay of Plenty Kiwi Can leaders working in different schools each week of the school year.
The same themes run across all schools that take part.
"Within those themes we teach different modules. This week is on making good choices not bad choices, which will run for three weeks. Then they will move on to leadership, accountability and role models."
Mrs Whareaitu says the diversity each of the Kiwi Can leaders brings to the table is an important part of the programme.
"Some people are really creative and in the arts, sport or real music, so they all bring different talents where we plan lessons collaboratively.
"All eight leaders plan a lesson each so each lesson will be different, there will be a physical approach, mental approach, or a creative approach."
The main goal of Kiwi Can is to develop healthy, confident kids who have a sense of value.
"Really, what these guys are installing in them every day is values.
"The kids get told this by these guys, outsiders [Kiwi Can leaders], but perhaps it's someone who is a little bit more younger and is more of a friend, as opposed to the teacher, who has to be a bit more rigid.
"These guys are saying it's cool to have integrity and they role-model it throughout their own behaviour, and the kids see that and look up to them."
Mrs Whareaitu says success from the programme can be measured in less bullying and truancy numbers at the schools where Kiwi Can is hosted.
"For every dollar invested in Kiwi Can, there is a $5 return to the economy.
"Because the long-term effect of it is you are producing children who have values and morals, and more awareness of good and bad choices, who think about honesty."