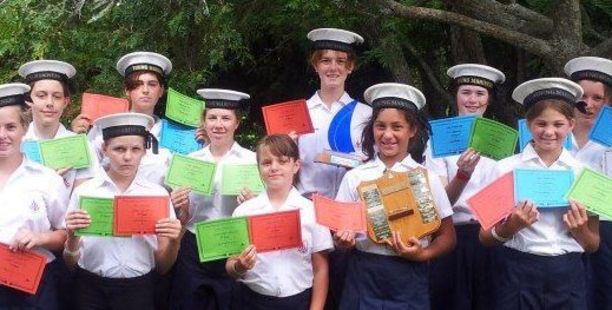 The Tauranga Young Mariners are on a winning streak. Last month the unit romped home to win first overall in the Young Mariners Annual Easter Regatta at Karapiro for the third time.
They also bagged a bevy of other awards and co-hosted the event with the Cambridge Young Mariners.
Junior mariner Zoe de Malmanche has been to four regattas but considers this year's event the best to date.
"The Easter Regatta is where all the units come together to compete in cutter rowing, sailing, kayaking, camping and we even do a small snippet of swimming and lifesaving."
The event was held over four days at Lake Karapiro and was awesome, she says.
"The girls did an absolutely amazing job sticking it out in the rain when the boats were half filled with water while it pelted down."
Zoe says it is easily the favourite regatta out of all the ones she has attended.
Tauranga Young Mariners unit leader Jillian Pilbrow says nine clubs from Whangarei to Rotorua took up the challenge, which included about 120 girls.
It was a fabulous regatta that encouraged team building, she says.
"The event is fun and a really good experience. It's also a great way for the girls to network and meet others."
Tauranga Young Mariners has 20 members and they participated in numerous activities with a focus on water sports.
"It's a great opportunity for girls to try out different things that they may not normally." Jillian says.
"We also go camping and encourage families to come along and bring other siblings."
Jillian and her husband David became involved with the mariners in the late 1990s and took over running it in 2002.
Eldest daughter Kimberly progressed through the ranks and the couple continued after she left. Kimberly also helps out on occasion alongside brother Nicolas so it was still a family affair.
WANT TO BE A YOUNG MARINER?
For girls aged nine to 19. Contact Jillian, phone 577 0515, email Tauranga@youngmariners.org.nz or see www.facebook.com/TaurangaYoungMariners and www.youngmariners.org.nz