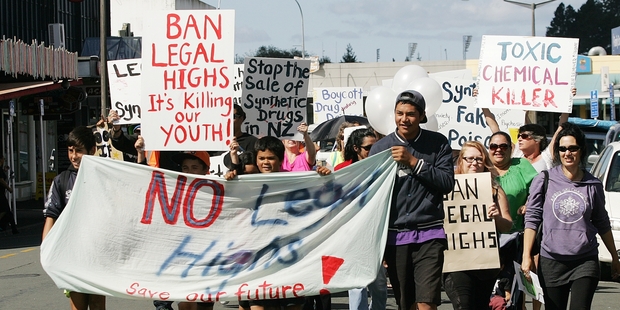 Parents, local councils and communities across the country are breathing a sigh of relief
as synthetic cannabis products are pulled from shop shelves this week. Lydia Anderson
looks at the murky future of legal highs and asks how long till they're back on sale.
It's been a passionate campaign by desperate communities determined to rid their neighbourhoods of an unwanted problem, and the Government has finally been forced to listen.
Associate Health Minister Peter Dunne's announcement a week ago that emergency legislation would be rushed through Parliament to stop the sale of legal high products this week was met with both joy and concern.
Many applaud the move - even if Mr Dunne admitted the timing was political, forced by Labour unveiling a similar policy. But serious questions are now being asked about what support is available for the countless addicts who will be forced to go cold turkey, and when or if legal highs will make a comeback.
Community addiction services are bracing for an influx of addicted users suffering withdrawals.
The New Zealand Herald reported last week Auckland's state-funded Community Alcohol and Drug Service (CADS), was seeing a marked increase in the number of people seeking help to quit synthetic cannabis.
Two to four people a week were now seeking help from CADS, up from about one a week since August, and the service estimates 40 per cent of people seeking its help use the drugs.
However it's not just the addicts that are a concern.
In Tauranga, the Women's Refuge says it's "batten down the hatches" time as women's partners come off synthetics - with many women reporting unpredictable violence and turning to the Refuge for advice and support through the withdrawal period.
The new legislation will see all legal high products banned until they can be proven "low- risk", although a testing regime is yet to be agreed on amid concerns around testing the products on animals.
WHAT HAPPENS NOW?
Despite the temporary ban, local councils are not pumping the brakes on regulating possible future sales of legal highs.
Last July's Psychoactive Substances Act gave local authorities the power to develop a locally approved products policy (LAPP) to determine where legal high products could be sold, but not to completely ban the products' sale.
The act allowed synthetic recreational drugs to be sold legally if they could be shown through scientific testing to have only a low risk of harm.
However, the low-risk testing regimen was not immediately brought in, and more than 40 legal highs products were given interim approval.
The Ministry of Health's website says these products were assessed "according to a robust risk assessment framework".
Regulations covering legal high product approvals are expected to take effect from about July of this year, from which time approval applications can be lodged by synthetic drug makers.
The Ministry anticipates the approval process could take 18 to 24 months with the cost to manufacturers estimated at $1 million to $2 million per product. Debate on animal testing could slow the process with Prime Minister John Key telling media last week it might not be acceptable to extend animal testing for legal highs from rodents, as currently used, to other animals such as rabbits.
The Labour Party is opposed to any animal testing for legal high products, and says testing can be done using computer modelling.
A second phase of regulations covering retail licence applications for the sale of legal highs should take place in early to mid-2015, by which time councils are expected to have implemented LAPPs, the Ministry says.
At least five councils have so far implemented LAPPs, and about 22 others are working through draft policies.
Local Government New Zealand president Lawrence Yule, Hastings mayor, says the ban gives councils more breathing space to establish their LAPPs, as having the products off the streets reduces the intensity of the problem.
However many are pressing on regardless, in preparation for the return of legal highs.
"Communities still don't want this stuff. Even though they might go through a regime and somehow perceive it as safe I don't think it's going to deter the groundswell of community views that we really don't need this stuff.
"Parliament underestimated what the communities' reaction was to these products - that's ultimately what forced the change."
It will be interesting to know how communities react if or when products deemed safe are returned to the market, he says.
"If they're safe, there could be quite a chance that actually they don't give you such a high as some of these products [currently on sale] and the demand for them may be less."
In the meantime, Mr Yule says, it is the responsibility of the Ministry of Health and district health boards to offer help to recovering addicts unable to purchase a legal fix.
The Ministry says each district health board will consider what they can currently provide, and determine if any additional services are required.
It is working with addiction services to discuss how services might be impacted after the ban.
UNANSWERED QUESTIONS
Determining what constitutes a "low-risk" product is a question many want answered.
Massey University senior researcher and leader of the illegal drug research team Chris Wilkins is in favour of the ban, but is perplexed as to why it wasn't introduced as soon as the act came into force last year.
"It's disappointing that we're only now finding out that some of the products that we've given interim licences to possibly could be dependence-encouraging."
He questions how long it will realistically take manufacturers to get product approval, saying it could be much sooner than the anticipated 18 to 24 months.
"The assumption that it's going to be that long is uncertain ... I have heard of some major players working on products and working on testing with the idea that they want to be first on the market, because whoever is first on the market is going to make a complete killing."
The industry makes so much money that investing in the testing regimen makes "good business sense" for manufacturers, he says.
"Even though the outlays for testing sound like a lot of money, if you compare it to how much you can make, it's chicken feed."
Dr Wilkins says he's also concerned about the industry carrying out their own testing under the government-developed regime.
"You can manipulate [test] results by how you do the trial."
Unlike pharmaceutical trials, which are conducted on people suffering from a relevant illness, the same cannot be done for legal high products.
"Are you just going to get healthy young people and give it to them and see what happens?"
In addition, legal high users often combine their use with other drugs such as alcohol or natural cannabis.
"It's those combinations that often bring out adverse effects.
"If I was designing that testing regime I'd say you've got to test your product with alcohol."
The testing should be designed to reflect the context of recreational drug use, he says.
Even with products deemed safe, young users will be tempted to push how much they can handle. "Once you have a low-risk product and you give it to a 16-year-old you better believe they're going to try and use as much of it as they can to see what happens."
Ultimately though, developing a safe legal high would be a public health gain if it means drug users ditch illegal drugs and use a legal substitute, he says.