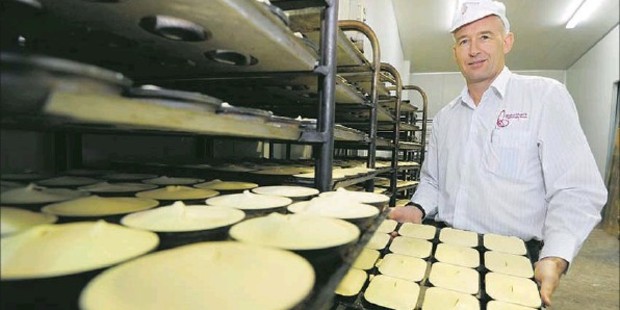 Tauranga company BakeShack's commitment to regular new technology and process upgrades has helped build its capabilities to the point where it can produce more than 6000 pies a day at its Hewlett Rd retail shop and bakery.
"As business keeps growing, we have to keep up with it," said Iain Bent, BakeShack's general manager, who founded the company in 1999 with five people, and now has a staff of 33 bakers, counter staff, packers and drivers.
The company supplies fresh pies, sandwiches, pastries and cakes to a range of wholesale clients from Taupo/Rotorua/Whakatane to Auckland and the Waikato to Coromandel, as well as to local retail and wholesale customers.
Developments have included installing a hi-tech automated pie-making system, manufactured in Australia to Mr Bent's custom specifications. Once cooked, the pies go directly into a new blast cooler installed by BakeShack last year.
"Our pies are cooked at 230C then go straight into the cooler to prevent any bacteria contamination during the danger zone, which is just after they come out of the oven," he said. That's in keeping with a commitment to establishing its own food safety programme, which Mr Bent said was at a higher level than council requirements, and included annual external audits by Quality Auditing Services.
Mr Bent has opted to supply freshly baked food only, which means he concentrates on servicing the market within roughly a two- to three-hour drive from the bakery. BakeShack runs three of its own trucks, as well as two outside contractors.
"All of our wholesale customers need freshly-made food," said Mr Bent.
Key wholesale customers include supermarkets, superettes, dairies and petrol stations.
Raewyn Gooch, bakery manager at SuperValue in Riverslea, said she appreciated the fact that BakeShack took the time to get to know her as a customer.
"If they think something's not right with the order, they'll ring me," she said.
"They're very approachable and responsive."
BakeShack

Founder and general manager: Iain Bent

Started business: 1999

Staff: 33

Business activities: Wholesale and retail supply of cakes, pies, pastries and sandwiches

Markets: Bay of Plenty, Waikato-Coromandel, Auckland
Mr Bent said a key point of difference for BakeShack was that it did not use mono sodium glutamate (MSG), textured vegetable protein (TVP) or acid-hydrolyzed vegetable protein (HVP) in any of its products.
However, one challenge faced by companies across the country was a shortage of qualified bakers, said Mr Bent, who currently has four apprentices.
"It's hard to get motivated young people who want to start at three in the morning," he said. "But an apprentice here learns how to make bread, pastry and cakes, whereas in a lot of places they might only learn one speciality. We make the full range and everything we sell is made on site."
Mr Bent got his own initial training in hot bread shops and supermarkets. "But I learned more after I opened my first business by being there and doing it," he said.