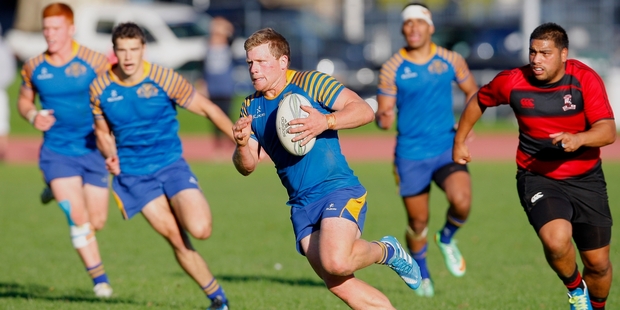 Tauranga Sports have ridden a truckload of penalties home to beat Whakarewarewa 24-17 in a stop-start affair at Tauranga Domain yesterday.
One sideline scribe listed the penalty count as 15-2 in favour of Tauranga Sports which, when combined with the visitors receiving two yellow cards, destroyed any possibility of what had threatened to be a boilover.
Whakarewarewa conceded penalties early and often, but looked well up for the contest and sprang out to a 12-3 lead after 30 minutes.
Siegfried Fisiihoi scored a classic forward's try in the shadow of the posts after successive phases to give his side the lead before a piece of individual brilliance from a newcomer split Sports open.
Whakarewarewa fullback Whaimotu Craft-Chemis caught a misjudged clearing kick, jammed off his left foot between two defenders before goose-stepping another and delivering a perfect skip ball to handy first five Te Rangi Fraser to score.
That is when everything changed for Whakarewarewa.
The next kick-off was regathered by Sports as visiting halfback Akira Mako stood behind his opponent's posts in the bin. A penalty goal to Lewis Hancock came next, followed by more penalties and the sinbinning of Whakarewarewa's John Ririnui upon Mako's return.
A late converted Hancock sideline try after a slick Sports backline move gave the hosts a 13-12 halftime lead.
A leg injury to Craft-Clemis - who had been in everything until then - took some of the steam out of the visitors as the wind picked up behind Sports.
A pair of penalties to the accurate Hancock made it 19-12 before a George Honey try looked to ice it after 72 minutes.
Whakarewarewa burst back a minute later when Chanse Perham barged over, but they ultimately ran out of time and patience with the officiating.
Hancock, who collected 19 points in a composed performance at the back, said the side had placed great importance on the home match after being tipped over by Te Puke Sports earlier in the weekend.
"That would have managed to put us way down the chain if we had managed to lose today," Hancock said.
"I think there were a few sore bodies but we tried not to think about it. All the teams were feeling it so you've just got to put it out of your mind. They were both pretty physical."
Bayfair Baywide Club Rugby, Week 5
Premier: Greerton Marist 13 Mount Maunganui 24
Development: Greerton Marist 20 Mount Maunganui 20
Premier: Tauranga Sports 24 Whakarewarewa 17
Development: Tauranga Sports 81 Whakarewarewa 10
Premier: Opotiki 20 Rotoiti 25
Development: Opotiki 33 Rotoiti 30
Premier: Te Puna 15 Te Puke Sports 21
Development: Te Puna 15 Te Puke Sports 23
Premier: Rangataua 42 Rangiuru 17
Development: Rangataua 29 Rangiuru 24.