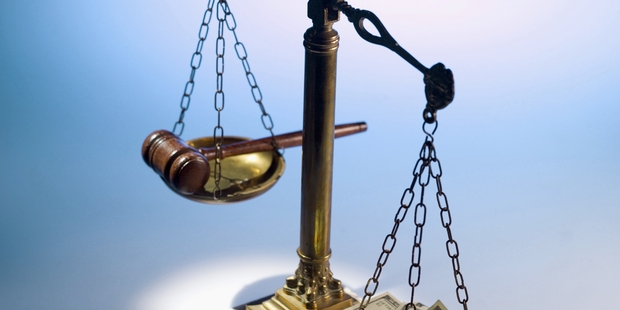 Bay lawyers received $6.18 million in legal aid payments last financial year - slightly more than the year before.
But some say their rate of pay should rise to reflect the nature of the work they do.
Figures obtained by the Bay of Plenty Times show that between July 1, 2012, and June 30, 2013, Western Bay lawyers were paid $6,189,440.40 in legal aid payments. This compared with $6,171,440.40 the previous financial year.
The top earner last year was former law firm Horsley & Adams, which received $734,931.82 in payments - $189,496.93 more than the financial year before.
Rachael Adams, who now heads Adams Law, did not return calls.
The second top earner was Pacific Coast Law, which received $429,027.61 compared with $319,902.28 in 2011/2012.
Pacific Coast Law partner Tony Rickard-Simms told the Bay of Plenty Times it was hard to compare one year's legal aid payments with another because a portion of the payments also came from work carried out during more than one year.
There was a "phenomenal" difference between what legal aid lawyers were paid compared with their private sector counterparts and not all the money went into his pocket, Mr Rickard-Simms said.
He said overheads, some travel costs and disbursement costs, such as paying for private investigators and DNA diagnostic costs, had to be paid out of the payments.
It also did not take into account all the "after-care" pro-bono work he did for clients who sought his help after their court case ended, he said.
Tony Balme, who ranked third top earner, did not return calls.
Senior lawyer Bill Nabney, who ranked fourth, said he was not complaining about the fixed fee regime but the total payments received were a gross amount before expenses were deducted, including paying for expert witnesses, private investigators, accommodation, travel and staff costs, and other overheads.
"For instance, I recently did a burglary and assault trial. My fee will be $3000 whereas there was over $20,000 in private investigator expenses," he said.
Craig Tuck, ranked eighth, said the legal aid hourly rate had not changed much over the past decade and was "out of whack" with market rates.
Police and the Crown effectively had unlimited resources whereas legal aid lawyers had to justify every bit of expenditure to defend people who were sometimes "fighting for their survival".
Mr Tuck said that when representing someone at a murder trial - with the responsibilities that entailed - he was paid $160 an hour.
"That's ludicrous ... I know that a lawyer doing some government-funded conveyancing work would get paid at least double or even triple that amount," he said.
Michele McCreadie, general manager of Legal Aid Services, said the service managed the legal aid system to ensure people who could not afford a lawyer received good quality legal representation when they appeared before the courts.
An additional $720,970 was paid last year to the state-owned Tauranga's Public Defence Service, which handles up to 50 per cent of criminal legal aid cases. This figure was not broken down to individual lawyers who work under contract for the PDS.