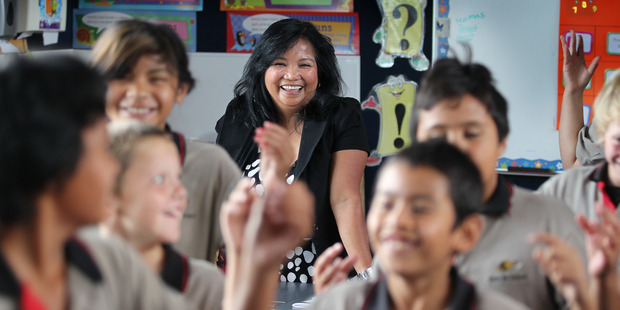 Yolly Bennett's teaching style is a mixture of strict rules and fun.
The Gate Pa School teacher was nominated by principal Richard Inder for the Bay of Plenty Times' awesome teachers series.
Mrs Bennett's class is a snapshot of multicultural Tauranga, made up of two Filipinos, three Indians and a mixture of Maori, Pacific Island and Pakeha children.
She takes hold of her class by implementing what she calls the ABCs - atmosphere, boundaries and communication.
"The atmosphere should be relaxed and fun, but always busy. Boundaries are the things you are and aren't allowed to do. You have to communicate well and respect each other. I say if they do all three they won't need "D" - discipline - because they know their expectations."
As the Bay of Plenty Times arrives, the 25 students are all hard at work completing a maths test. From here, they gather in a circle on the mat for "oral language".
Mrs Bennett passes a yellow ball around the circle, asking each student to complete the sentence "I am special because ...".
"I'm special because I have a great life," one student says. Another says, "I'm special because I'm me". One young boy says he is special because he is ugly. "What do you mean ugly? All the girls were after you last week," Mrs Bennett responds with a smile.
In typical child fashion, the answers ranged from cute to comical and each provoked thoughtful reactions from Mrs Bennett.
Her height could be one reason the students feel comfortable around her, she jokes. Mrs Bennett is a Filipino national. She moved to New Zealand in 1990 to work.
"In the Philippines the students were like soldiers lining up to march to the library. When I was first teaching here in South Auckland, the principal would come into my room and the whole class would be quiet. Then I was told they were allowed to talk to me and sound me out so it was a bit of a shock for me, the cultural difference. I found it a challenge when they were talking to me, I felt they were disrespecting me."
Now things are much different. While Mrs Bennett still keeps a tight rein on her class, she is interactive with the students.
She has been teaching at Gate Pa School since 2001 and says although teaching can be a draining job, she cannot picture doing anything else. "The day I stop enjoying it should be the day I stop working. The children can see whether it is real or not."