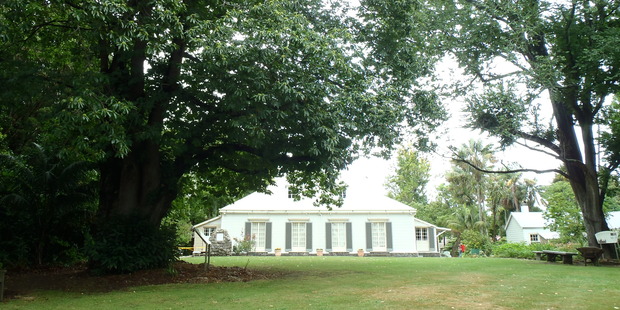 The Elms office manager has been made redundant in changes that will see one of New Zealand's most historic places managed entirely by volunteers.
Jenny Hughes' job finishes at the end of May, ending a two-and-a-half year association with The Elms, in which she ran the office and undertook various duties, including co-ordinating visits by community organisations, and school and cruise ship groups.
She was the only paid employee of the Elms Foundation and her redundancy has created concern among volunteers who respected her abilities and wonder who would be prepared to plug the gap without payment.
When contacted, Mrs Hughes declined to comment.
Elms trustee Des Ferrow said the decision had created a little bit of turbulent water among the volunteer guides who knew her well. He said the move was to tighten fiscal control because the foundation did not like seeing 80 per cent of the income earned by the guides going out on one salary.
Moving to a 100 per cent volunteer base opened up funding avenues, such as paying an education convenor for school programmes and maintaining The Elms' heritage collection.
The other important component for future funding applications was that The Elms became debt free when its last mortgage repayment was made for the property on the corner of Mission and Chapel streets. TECT's contribution of $350,000 toward the $950,000 purchase price was coming through today, adding to the $250,000 from Elms' reserves and $350,000 from Pub Charities.
Mr Ferrow said the main sources of income were from cruise ship passengers and free and independent travellers who went on guided tours, and people who got married at The Elms. Although the foundation rented properties ringing The Elms, they did not bank much once maintenance, rates and insurance were factored in.
He said the changes had nothing do with the death of Jinty Rorke, who ran The Elms' management board. They had been discussing the changes for months prior to her death on February 6.
But people close to The Elms told the Bay of Plenty Times that Mrs Rorke had opposed making Mrs Hughes redundant because of how "she held the place together". They said her background in museums in England meant it would be hard to find volunteers to match her commitment and competence.
Mr Ferrow agreed he was getting some flak because of volunteers' emotional connections to Mrs Hughes. He said he had a lot of admiration for the 67 guides who "worked their butts off".
Convenor of guiding Margaret Jenner said that whenever change occurred, there were always some people who did not approve.