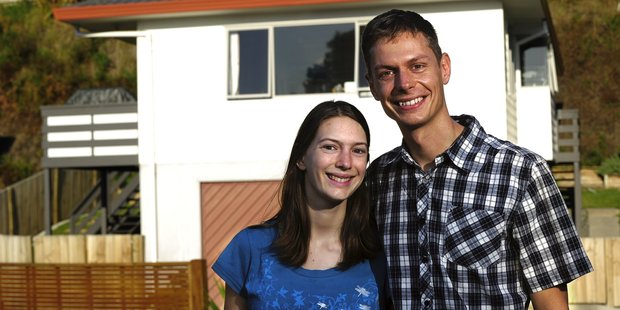 Spooked Tauranga home buyers are expected to snap up properties before rising interest rates price them out of the market, a local real estate agent says.
Real Estate Institute of New Zealand monthly figures, out yesterday, show the median house price for Tauranga fell 3 per cent during February to $377,000 - but was up 4.7 per cent from the same month last year.
The number of sales jumped 45.1 per cent to 119 last month - but recorded a 4.8 year-on-year fall.
The average sale price for the three months to December was $439,974 across Tauranga.
"What is there is bought so quickly and what is left is generally overpriced for what you get."
And though the nation's property prices has been steadily climbing, a likely 0.25 per cent rise in interest rates tomorrow is expected to lump more costs on mortgage holders and could slow the heated housing market, experts warn.
LJ Hooker Tauranga co-owner Stephen Pepper said in the past rising rates had pushed people to get into the market while they could still afford it.
"I've seen a few real estate cycles now in the time I've been in the business and we fully expect that in the short term we will see people who are worried that interest rates will rise to the point where they really can't afford it.
"In the short term ... we will enjoy a very good selling time."
However, Real estate agents say first-home buyers are facing another hurdle in the hunt for a home - a shortage of properties under $400,000.
Bay real estate experts say new listings of homes in that price bracket were down 20 per cent from October 2013 on the same period a year earlier.
They blame the shortage on a combination of pressures including increased interest from the Auckland market, a rise in immigration and locals who are hesitant to sell up before they find a new home.
Mortgage brokers say hundreds of first-home buyers are struggling to find a property despite having available funds.
Te Puke newly-weds Jack and Amy Buckle have been hunting for their first home in Tauranga for five months.
"We missed out on a couple of homes just before the new lending restrictions (LVRs) came in so we had to borrow money from family to scrape together a 20 per cent deposit," Mr Buckle said.
"We have been looking hard out ever since then, it's almost a fulltime job but there is just not much in our price range of $320,000. What is there is bought so quickly and what is left is generally overpriced for what you get."
Andrew and Amadea Simmonds knew they had to move quickly when they found their ideal first home.
Every house they had viewed in their price range of $250,000 to $300,000 was old and run down so when they viewed the house in Judea they snapped it up.
Greg Purcell, franchise owner of Ray White Mount Maunganui and Papamoa said sales were strong but agents had noticed a big drop in homes under $400,000 being listed.
Group sales and marketing manager of Realty Group (Eves Realty and Bayleys) Karen Worley said the "definite shortage" in homes under $400,000 was a combination of issues.