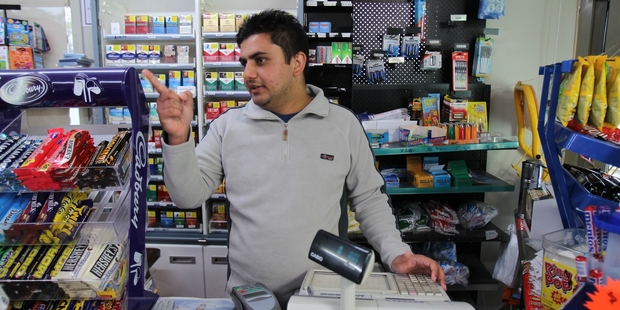 The worst criminals in the Bay of Plenty and Coromandel have notched up 229 "strikes" under the three-strike legislation - two of whom received their second and "final" warning last year.
The hardline sentencing law imposes heavier penalties on repeat violent or sexual offenders, ensuring they receive the maximum allowable sentence for their crimes.
Since the legislation was introduced in June 2010, the total number of warnings issued in the Bay of Plenty/Coromandel has risen year-on-year.
Katikati dairy manager and stabbing victim Ramandeep Singh said three strikes was a good thing he agreed with "100 per cent".
"I think the first time it should be normal then after that more punishment - extra strict."
Mr Singh said harsher penalties would be more effective than the standard system often involving community work and would work as a deterrent.
In March 2012, Mr Singh was attacked while working at the Park Rd Dairy when a man entered, stabbed him more than 10 times and robbed the store. Only three months later Mr Singh was victim to another armed robbery.
The stabber was found not guilty by reasons of insanity while two other men were last month found guilty of trying to rob the dairy in June 2012. They are yet to be sentenced.
But Tauranga barrister Tony Balme said the "draconian" legislation was inflexible and risked seeing offenders unfairly rot in jail.
"The real problem is you're getting into the area of the American-type system of policy sentencing ... you could have a low-level indecent assault like someone pinches a woman on the bottom, you do that three times and you're in a third-strike situation.
"Most offences are committed under the influence of drugs or alcohol, a lot are committed on impulse or succumbing to peer pressure.
"I don't think people in those circumstances have [in mind] the Government's legislative programme.
"It's three in the morning with a box of Codys in [their] tummy."
Former Katikati osteopath Richard James Davis received his first strike and was sentenced to eight years in jail after being found guilty of sexual offences against women patients in October last year.
Garth McVicar of the Sensible Sentencing Trust said the low number of second offences in the Bay showed the policy was working.
"If rehabilitation was going to work, it would have worked under the old legislation," he said.