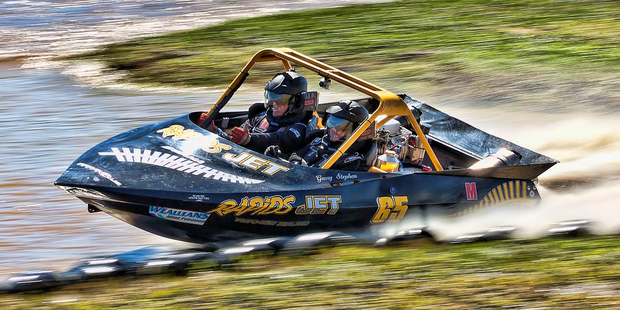 Tauranga faces a fight to keep the V8 Jetsprints with some of New Zealand's largest cities poised to poach it after the Bay's success.
The world-first Jetsprints event, which saw ASB Baypark stadium transformed into a network of water-filled channels, attracted a 15,000 crowd, boosting the local economy and shining a global spotlight on Tauranga.
But now cities including Auckland, Wellington and Christchurch want a look-in, with organisers saying they need support to ensure another centre doesn't steal the sprints.
The Jetsprints warning came as the city council decided to add $382,000 to its draft events budget - including asking ratepayers for $152,000 to boost the number of fulltime events staff back to close to where it was before the council was restructured 14 months ago.
Tauranga Mayor Stuart Crosby said if the Jetsprints wanted to return to Tauranga, the council would entertain the idea but there had been no request by the organisers or Bay Leisure and Events.
If the request was made, the event could be considered under the council's new approach to event funding, Mr Crosby said.
Jetsprints Bay of Plenty spokesperson Pip Minnell told the Bay of Plenty Times the Bay community and Tauranga City Council needed to "put some skin in the game" before another city claimed the event.
"There is real competition from councils from around the country who are prepared to host the champion series," she said. "They all watched while we took the risk digging up the stadium and now they have seen the reward, they want in.
"There are at least three other cities and three other stadiums in New Zealand who are prepared to do it. The New Zealand Jet Sprints Association has been fielding calls from other councils who are keen. They want the economic benefit, the international interest and the excitement."
Mrs Minnell said the event did not cost ratepayers a cent, but in the future the city council would have to back the Jetsprints or it would not become an annual event.
"We organised this event with the help of commercial sponsorship and community funding organisations, there was no ratepayer money given to this at all.
"The reality is there are other councils who are prepared to contribute, with funding or in-kind support, and if this is going to continue then TCC needs to do the same."
Bay Leisure and Events Limited CEO Gary Dawson said planning had already started for next year's Jetsprints, but organisers hoped it would become an annual event synonymous with Tauranga.