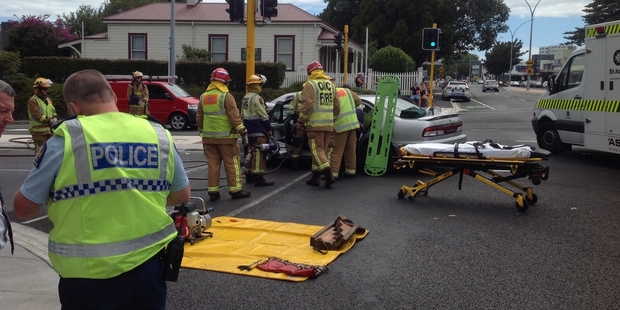 A spectacular three-car collision yesterday took place during a power cut that shut down the traffic lights controlling the busy Tauranga downtown intersection of Cameron Rd and Elizabeth St.
The accident just before midday happened about 40 minutes after a transformer exploded in Third Avenue west, cutting power to the area including the Elizabeth Cafe and Larder on the same intersection that the accident took place.
Witnesses saw a car heading north on Cameron Rd collide with the front of one of two cars that were simultaneously crossing Cameron Rd from Elizabeth St, heading down to Takitimu Drive.
The Holden Commodore hit by the car heading along Cameron Rd then sledged into the side of the car on the inside lane and crashed into a pole.
The 90-year-old passenger of the car being driven along Cameron Rd was taken to hospital with minor injuries.
Tauranga truck driver Jason Green, whose 2006 Holden ended up sandwiched between the two other cars, said the silver car heading along Cameron Rd seemed to come out of nowhere.
Aside from a small cut to his leg, he was uninjured, but the combined impact from the car and the pole meant he expected his car would be a write-off.
Mr Green carried third-party insurance, which meant his car was insured if the crash was not his fault.
Mr Green said it was his first accident in 11 or 12 years of driving, including six years driving trucks.
The driver of the other car caught up in the collision, Anaru Teamo, said he felt sad for the driver of the silver car.
"It was pretty scary, it took me a while to gather myself."
He and the passenger in his Madza 626 sports hatch, Quinn Hireme, were uninjured. The two men play in the band Cast A Cyclone and their guitars also survived the crash.
Firefighters from the nearby Tauranga station used the jaws of life to cut the centre pillar off the car containing the 90-year-old man, before he could be extracted and put on to a waiting stretcher.
The brigade also provided scene protection at the intersection that was narrowed to one lane for nearly an hour.
Izack O'Neill, who worked at the cafe and witnessed the accident, said the power was off for about 40 minutes. He said the traffic lights were still out when the accident happened.