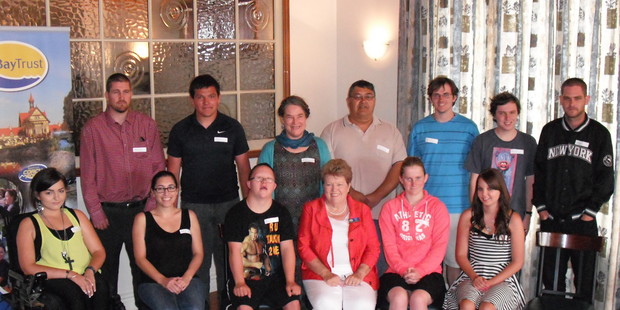 More than $100,000 will be given to 51 Bay of Plenty tertiary students this year in recognition of the extra challenges they face due to medical disabilities.
The students deal with conditions such as Asperger's Syndrome, spinal muscular atrophy, lung disease, tumours, autism and dyslexia and have taken on fulltime study in the pursuit of demanding careers in medicine, engineering, broadcasting and social work.
The Western Bay of Plenty's 2014 Dillon Scholarship recipients were congratulated at a morning tea function held by BayTrust in Tauranga last week.
The Bay of Plenty students will receive $101,539 between them this year.
BayTrust's Dillon Scholarship committee chair Pamela Lewis said it was inspiring to see people with additional hurdles and setbacks in life wanting to do something with it and achieve.
First-time recipient Karisma Nel, 18, is confined to a wheelchair due to spinal muscular atrophy and will this year study at the New Zealand School of Radio in Tauranga.
"The money is going to help me a lot to get all the stuff I need for my course - you need headphones, a laptop and lots of other special gear so this will help me so much. It's wonderful."
Haydon Lawrence, 42, will return to the classroom for the first time in decades, having never succeeded at school because of an essential tremor which causes his hands to shake uncontrollably.
"I grew up thinking I was the only one in the world that had it. It was very hard as a kid - I couldn't write like everybody else so people put me in a box."
Mr Lawrence will now embark on a four year Bachelor of Social Work at Bethlehem Tertiary Institute with the help of a $2000 Dillon Scholarship.
Bay students who have a medically-recognised disability can apply for a Dillon Scholarship of up to $5000 each per year for a maximum of four years. There is no age restriction.
Applications open every December for the following year's study.
The Dillon Scholarship was named after the late Ray Dillon, a former Chairman of the Trust Bank Bay of Plenty Board, who supported many community activities and died tragically in 1989.
The Dillon Scholarship programme has now granted $1.4 million to students with disabilities since it was first established in 1990.