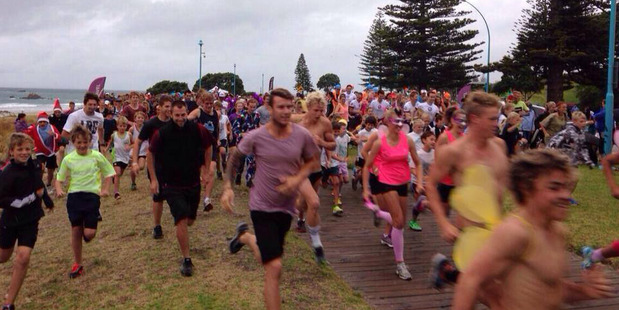 Supporters of a Papamoa boy fighting cancer raised about $10,000 by racing up Mauao in fancy dress.
At least 670 people gathered at Mount Maunganui's main beach near Leisure Island yesterday to take part in the fundraiser for 10-year-old Harrison Mundy.
The Sunrise Race for Harrison was organised by family friend Sarah Lockwood.
"It was just amazing and we took in $6000 through registrations, which means a lot of people gave a lot more than the $10 registration donation," she said.
"We also have been getting a huge amount of money donated into the bank account so we conservatively estimate we have $10,000."
Ms Lockwood said she was staggered with the turnout.
"We knew because they are so well-known and they do so much for the community already, we did expect a few people but we were still overwhelmed.
And people who didn't even know them as well, they were taking part because they were just touched by Harrison's journey. It was just incredible," she said.
Harrison's father, Allan Mundy, said he and his son were heartened by the support, which went a long way in their fight against the cancer.
Harrison was unable to attend because he was booked for radiotherapy. However, Mr Mundy was at the beach and fired the gun to start the race. He said it was a great opportunity to thank the "amazing" people who had supported the family.
"When I was up the the top of the Mount I caught up with Harrison's school mates and his hockey team. I was able to talk to Harrison at the same time, he was so happy.
"That was a real special moment," Mr Mundy said.
"He really wanted to be there but he knows he's got limitations."
In June, Harrison was diagnosed with rare cancer Ewing Sarcoma.
The team of Dennis de Monchy, Chris Morrissey and Dave Jaggs were the first to the summit, with a time of 13 minutes.
People can keep updated on Harrisons's fight through the family's Facebook page Harrison's Journey.