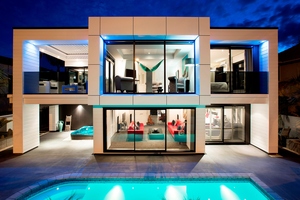 An impressive transformation of a 1990s home and a sophisticated energy efficient home have taken out top prizes at the national House of the Year competition.
Tauranga companies Todd Grey Builders and Shaw Builders each took out a top prize in the annual Registered Master Builders House of the Year awards, held in Auckland on Saturday night.
Todd Grey Builders won the ITM Renovation Award for the work done to a 1990s home in Royal Palm Beach, Papamoa.
The judges citation read: "An impressive transformation to this 1990s home that could leave you thinking it's brand new ... A stunning display of building skill, creating a magnificent home by the sea."
Mr Grey said he was blown away by getting a national win.
"I've entered the competition three times and got through to the nationals each of those times. It's amazing to pick up a national award, it's reassurance for our future clients that we take a lot of pride in what we do and strive for attention to detail."
Mr Grey said the home owners had wanted a complete makeover for their home as it was looking "tired" next to more modern Papamoa homes.
He said Brendon Gordon Architecture did an amazing job with the design and the win was a team effort.
Shaw Builders were the winners of the Resene Sustainable Home Award for a house the company built in Te Puke.
The judges' citation read: "This home boasts numerous energy efficient features ... this house is not only sustainable but also stylish in its design."
David Shaw said the heating system in the Te Puke home was the first of its kind in Tauranga, but it would not be not the last.
"This is the way houses are going now, people are trying not to pay the big power bills. It was that system that helped us win the award. The owners came to Auckland with us for the awards and were happy to know their house got the award."
This was Mr Shaw's first national win, although he had about nine gold reserve wins at the competition in previous years.
Mr Shaw said the win meant a lot for his company.