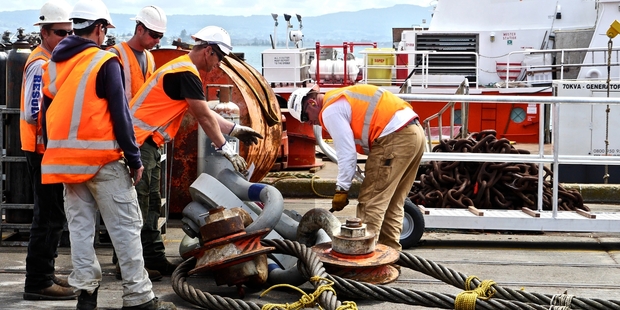 Two divers working on the Rena were hospitalised after serious complications at dangerously deep diving levels.
The 25-year-old New Zealander and 31-year-old American were helping prepare for the removal of the wreck's large accommodation block next month when they got into trouble in separate incidents 10 days apart.
The Bay of Plenty Times can reveal that on October 29, the American diver's umbilical device snagged in two separate locations while on ascent from a depth of 46m.
The diver was forced to descend to clear both obstacles.
Rena recovery spokesman Hugo Shanahan said although the diver eventually reached the water's surface unassisted, he needed to be helped out of his cradle and helmet, and also required a hyperbaric chamber.
"During this period his appearance was pale with bright red cheeks, while in a disoriented state with unsteady legs - symptoms consistent with a CO2 [carbon dioxide] hit."
Mr Shanahan said investigations identified the major cause of the incident was over-exertion at the deep depth the diver was working at and a small blockage in the helmet's valve may have further led to the diver breathing carbon dioxide.
The helmet was checked and not found to be faulty but has been taken out of service until further investigations have been completed.
On October 19, the Kiwi diver reported experiencing breathing problems while at about 34m and was instructed to flush his helmet and return to the surface.
Mr Shanahan said investigations identified a poor seal that allowed small amounts of exhaled carbon dioxide to accumulate in the helmet but the diver's early detection and immediate surfacing prevented any serious issue.
Both divers were placed in a hyperbaric chamber on a barge and taken to Tauranga Hospital after consultation with an Auckland-based hyperbaric doctor.
The doctor has since approved both men to return to work which continues to involve operating at deep depths.
Neither diver has suffered ongoing medical injury or treatment, Mr Shanahan said.
He said the men were not available for comment because the entire salvage team was in "full swing" now.
Mount Maunganui Underwater Dive Club captain Russ Hawkins said he believed the efforts to remove Rena were too dangerous for divers.
"It's because of the pressure. You are forcing a lot of nitrogen into your blood stream. It's like a bottle of fizzy drink and of course, as you come up, those little bubbles start to expand in your blood stream," Mr Hawkins said.
"If that reaches your joints or your brain, it can starve those areas of oxygen and they can start to die."
Resolve project manager in Tauranga, Ajay Prasad, said the close-knit team was thankful neither diver suffered serious injury.