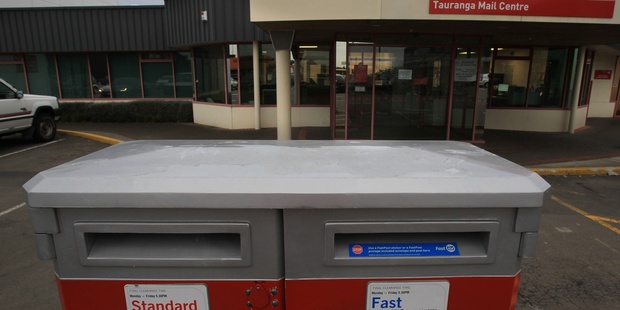 Western Bay of Plenty will be hit hard by the latest announcement of job cuts and the forecasted closure of Tauranga's mail centre, says the Engineering Printing and Manufacturing Union.
On Friday, NZ Post announced up to 2000 positions nationwide would be cut over the next three years.
These job losses are on top of the 500 part-time and full-time jobs - including 20 positions at Tauranga mail centre - that NZ Post announced in June would be cut.
The EPMU said the latest round of cuts would impact on at least one-fifth of the NZ Post workforce and there was "significant" concern for Tauranga posties.
Tauranga's Chapel St mail centre would move to another in the Waikato before eventually being transferred to Auckland, taking the jobs with it, said the union's postal industry organiser, Joe Gallagher.
He said the job losses announced on Friday would primarily affect the retail and delivery sectors of the industry.
"This latest announcement will hit the regions even harder," Mr Gallagher said.
"They are already starting in Gisborne, Nelson, they are rolling through the little places first. It's going to hit pretty hard in the regions with less and less jobs and no economic stimulus," he said.
"It's a grim day for post."
It was not known how many jobs will be lost in Tauranga and when the proposed closure of the Tauranga mail centre would happen, but Mr Gallagher said he expected that would happen within 12 months.
When asked to confirm the closure of Tauranga mail centre, the chairman of the state owned enterprise, Sir Michael Cullen, said: "We're moving to three processing centres [Auckland, Christchurch and Palmerston North] as we made public some time ago, that involves job losses in other mail centres around the country. "We will put in some processes to help people with that and we will be relocating staff to the main centres - although I realise a lot of people will not be able to do this.
"It's a fact of life and not something I find pleasurable, but it is a business.
"It's not a social service like health or education."
Sir Michael said letter volumes had fallen 30 per cent since 2006, and New Zealand was facing further significant decline within the next five years.
"That impact on people is very regrettable but it's something we can't avoid given the changes to how customers and the broader community are using our service," Sir Michael said.