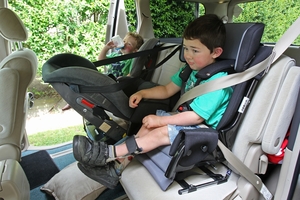 It's a "what if" that Te Puke mother Monique Lints would rather not think about, let alone talk about.
But today she is baring her soul.
It is nearly 20 months since her family was involved in an horrific head-on crash that robbed her son Aiden of the ability to walk unaided.
Details of the crash, and Aiden's progress since, have been reported widely, but what has never been revealed until today is that Aiden, now aged 4, was not in an appropriate car seat at the time of the crash.
Mrs Lints has agreed to speak out with controversial new child restraint laws coming into effect yesterday.
She said she wanted to "make people stop and think".
After enjoying a family picnic at Whakatane on March 9, 2012, with Aiden, his younger brother Danyon and a 2-year-old family friend, Monique and Grenville Lints buckled the children into their seats to begin what should have been an uneventful trip home.
Three-abreast, Aiden was placed in the middle, in a half booster seat, secured by a lap belt.
As he met the 15kg weight requirement, and was nearly 3 years old, Mrs Lints thought he would be safe.
"We couldn't fit three car seats in. We felt he would be all right," she said. "But we weren't planning on getting hit head-on in a car accident either."
When their 4WD and a van collided head-on at the intersection of SH2 and SH33 near Paengaroa, Aiden's leg was broken and spinal cord damaged badly, with the prognosis that he would be in a wheelchair for the rest of his life.
"He was thrown forward. The back seat did collapse. It caved in right on his back," said Mrs Lints.
"He's now in a wheelchair for the rest of his life and we have to live with that for the rest of our lives too."
Aiden has since made remarkable progress and can walk short distances with the help of splints and a walking frame.
But he will never run freely as he once did. Mrs Lints said it was possible he would still be walking today if he had been in a car seat appropriate for his size and age. "For kids to be in car seats longer is so crucial because they're so tiny."
In April this year, the family expanded with the arrival of another son, Levis.
Their car now has three car seats across the back - Aiden's is a special orthopaedic model and the other two have been hired from and fitted by Plunket.
Mrs Lints said she hoped sharing her story would encourage other people to secure their children properly.
"Children are the most precious things in the world."