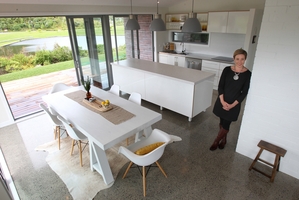 White kitchens, sculleries, walk-in wardrobes and hard floor coverings are leading the trend for new homes in Tauranga.
Television shows such as The Block and House Rules are influencing buyer tastes, while websites such as Pinterest are inspiring North American and European styles.
Trends seen on The Block such as glossy white kitchens and dramatic splashbacks are making their mark in Tauranga.
Lisa Buck, of The Thorne Group, told the Bay of Plenty Times Weekend that Pinterest and similar sites were great for ideas, but tended to be "quite aspirational".
"Something that works in a New York loft apartment is not necessarily going to work in a new house here.
"People are loving the white and off-white, that crisp colour palette."
Colour was being introduced through art work or furnishings rather than paint.
"It used to be people would do a feature wall, and while sometimes that still comes into play, it's more in a neutral tone rather than a bright red feature wall."
Open shelving was coming back into style in kitchens, and drawers rather than cupboards on island units.
"People are loving sculleries if they can afford it, to have things out of the way and have their clear bench space."
Marble finishes, reconstituted stone and stainless steel are also popular, as well as subway tiles for a splashback.
Kitchen flooring is wood and wood-look or concrete, while nylon carpet has replaced wool in popularity due its durability.
The white look was also popular in bathrooms, with textured and wood-inspired tiling offering contrast, Mrs Buck said.
Steve Wilkinson, of Te Puna-based Wilkinson Cabinetry and Design, said white and off-white kitchens were popular because home owners could change its look cheaply with new accessories.
"A developing trend for new homes today is walk-in pantries or sculleries which [eliminate] storage issues, and allow for more freedom of design in the actual kitchen."
Splashbacks could be "anything you like", Mr Wilkinson said.
"If you have a favourite picture, this can be used on your glass splashback.
"There's a noticeable trend back to ceramic tiles, and marble and stone are still a popular choice."
The company also designs wardrobe systems for walk-in wardrobes, which can include island units if space permits.
"People like a place for everything, [like] large drawers for bulky clothing, different hanging levels and a place for shoes and bags."
Marie Mant, of Baystyle Interiors, said neutrals were in favour, with a splash of colour "for that wow factor", she said.
"The trend is to have slightly bigger and higher windows, so you are getting a more opulent look with your window dressings.
"People are going more towards fabric - people went through a phase of roller blinds because it's cheaper, but they are finding it's not as homely or luxurious looking."
Bathrooms were in neutral colours, with square lines and plenty of chrome and glass, she said. Some people were choosing to leave out a bath tub.
The "wood look" was in for floor coverings, with vinyl planking popular, and textured neutral nylon for carpets.
Feature wallpapers were strong, with some home owners choosing to use it behind kitchen splashbacks or island units.
"Traditionally people just painted behind the glass, but you can actually have an image behind it. It can be made a real feature of."
TV shows and websites had made customers more sure of what they wanted, Mrs Mant said.
Tauranga interior designer Marilyn Cleland said white was as popular as ever.
Many home owners were using colour in their living room instead of kitchens and bathrooms - with curtains and upholstery in bright retro colours, and wallpaper feature walls.