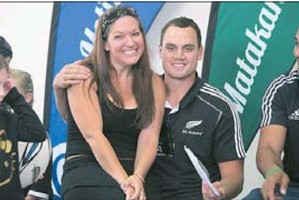 SIX-year-old Ashton Blenkiron had just one question for Israel Dagg when he met the All Black at Pillans Point School yesterday: "Can you marry my mum?"
"Where's your mum?" came the quick reply from Dagg.
"And, more importantly, where is your dad, he might beat me up."
All eyes turned to 30-year-old Kirsty Blenkiron, who was part of a huge crowd that showed up to meet Dagg and four other All Blacks in town as part of the All Blacks to the Nation Tour.
The single mum gave the rugby star a wave and a grin, later posing with him for a photo but it turns out he is off the market, happy with a new girlfriend.
"I didn't think Ashton would really ask that," she laughed.
"But then he is a massive All Blacks fan and I guess having one married to your mum would be pretty cool."
Dagg and teammates Tony Woodcock, Liam Messam, Steven Luatua and Frank Halai were greeted by screams and chants of "All Blacks, All Blacks" when they arrived at the school at 11am.
After a performance by the school's kapa haka group, the newest All Blacks, Frank Halai and Steven Luatua, took on two young girls in a hula hoop competition.
After suffering a humiliating defeat, they took their seats onstage with their teammates to take questions from pupils, including: "Is it true you get to eat jetplane lollies at half-time?
"What do you eat for dinner the night before a big game?" and "Who is the most inspirational person in your life and how have they shaped you into the person you are?"
It turns out the top rugby players do eat jetplanes at half-time, high-energy foods such as pasta, meat and potatoes are great before a game; and, for Steven Luatua, his father is the most inspirational person in his life.
"I would not be here today if it were not for my old man," he said.
"He has been pretty inspirational and if I were you, kids, I would pay attention to what my dad and mum are saying, they want the best for you."
The All Blacks revealed some perks of the job, admitting they got a lot of free clothing while they were on tour and didn't have to pack too much. They also told the kids about personal career highlights and the toughest players from rival teams.
When asked if he had any advice on how to become an All Black, Luatua told the pupils to "eat Weet-Bix".
"Just have fun," he said.
"Be a kid, be good, have fun and do what makes you happy. If it comes, it comes."
Dagg told the Bay of Plenty Times the annual tour was a highlight for the All Blacks, who loved getting out and meeting their fans.
"It's especially energising before we go overseas and get stuck into some big games," he said.
After posing for photographs and signing autographs, the boys in black headed off to Otumoetai College for a training session with school rugby teams from around the Western Bay.
During the day trip, they also had lunch with Mayor Stuart Crosby and walked through The Strand, meeting fans, before a visit to the Tauranga Art Gallery.
The entire All Blacks team split up yesterday, with events also held in Pukekohe, Matamata, Palmerston North, Nelson, Timaru and Queenstown as part of the tour.
The All Blacks leave New Zealand in two groups next week, the initial wave heading to Tokyo for the test match against Japan, and the second heading to Europe for the Air New Zealand European tour.