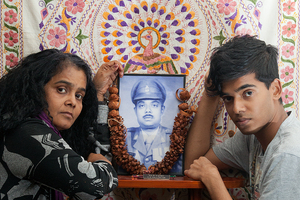 Shivani Andrews broke down in tears when she heard her dead husband's war medals had been returned.
Mrs Andrews' first husband, Major Ganapaphy Nagaraj, was posthumously awarded the two gold Vir Raksha (Bravery, Protection) in addition to his brass medals. Major Nagaraj died in battle at Kashmir in 1999 when their son Shivashish was only 3 years old.
The medals were stolen from Mrs Andrews' home on September 9 prompting the grieving widow to contact the Bay of Plenty Times and other media organisations for help.
Mrs Andrews said the medals were found in her mailbox last Friday, wrapped in a plastic bag.
She said she was told by the police to keep quiet about the find for a few days while they examined the bag for fingerprints.
"I was just over the moon, I couldn't stop crying and shaking."
Two gold plated medals were still missing, but Mrs Andrews said these were able to be replaced.