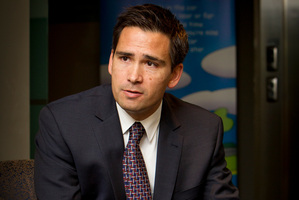 Tauranga MP Simon Bridges has brushed aside a social media storm of criticism, saying a fiery exchange with broadcaster John Campbell this week was just a part of the rough and tumble of politics and media.
Mr Bridges was invited to appear on Campbell Live this week as Energy and Resources Minister following the television show's coverage of Kaikoura residents opposing deep sea oil exploration off shore from their homes.
Within seconds both men began talking over one another, becoming heated and at times shouting in the interview, which producers extended by two minutes.
The fallout has since gone viral online, with Mr Bridges becoming the main target of social media criticism and jokes.
When asked if he was happy with how the interview went, Mr Bridges told the Bay of Plenty Times "I certainly don't regret it".
"It's the right thing to do, to set the record straight from my perspective as the minister," he said.
"I got some points across. John asked questions and had a different perspective.
"This is a subject of controversy and huge numbers of people will agree with me, some won't. Everyone will have their view."
Hundreds went online to express that view, with many appalled at the minister's and Campbell's behaviour.
Some online comments included a man who said his daughter was scared by the aggressive demeanor of Mr Bridges, and a woman who said she used to think of him highly but now changed her mind.
"How I came across is very much something in the eye of the beholder. People will have different views and I understand that," Mr Bridges said.
"I doubt very much John Campbell or I will be at all worried about it because this is the rough and tumble of politics and the media."
By 4pm yesterday, Mr Bridges became the second-highest trending subject in New Zealand on Twitter. Celebrities such as Paul Ego, Hilary Barry, Gareth Morgan, plus Greenpeace took to Twitter to share the interview online, referring to it as being one of the most entertaining of the week.
On Campbell Live's Facebook page more than 1300 people commented on the interview, many vigorously criticising Mr Bridges'
Mr Bridges' Facebook page had more than 40 comments, mostly congratulating him for "handing it to John Campbell".