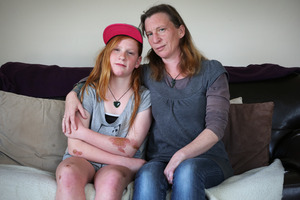 A Greerton mother has hit out at Tauranga Hospital's emergency staffing levels after her injured 12-year-old daughter had to endure a 10-hour overnight wait to have an x-ray taken and assessed.
Lisa Sarsfield said doctors and nurses did the best they could but were understaffed and overwhelmed by patients needing help.
The District Health Board (DHB) has responded, saying the emergency department (ED) experienced an extremely busy night with staff dealing with up to five to six times the normal number of patients during the busiest period.
Ms Sarsfield's daughter, Pearl, 12, was riding her bike on Cheyne Rd on Sunday when she came off, badly grazing her arm. Pearl struggled to move it hours later so Ms Sarsfield took her to hospital to see if it was broken. They arrived at 8.30pm and were told it would be a three-to-four-hour wait. It was 2.30am when Pearl finally had her x-ray and another four hours before she and her mother were told there was no break and sent home.
"We didn't even need to be there. If someone had read them sooner, that four hours, they could have had someone else in that bed," Ms Sarsfield said.
They did not go to Tauranga's Accident and Emergency medical centre in 2nd Ave because it closed at 9pm.
However, staff were so overwhelmed and understaffed at hospital it was "ridiculous".
A man who arrived at hospital at 11.30pm was still in the same seat waiting when Ms Sarsfield and Pearl left at 6.30am the next day, she said. Other people waiting included a woman who told Ms Sarsfield she had an autistic child upset at the wait and a woman who said her child had bad asthma.
Ms Sarsfield said there were also drunk drivers and a woman in labour who were understandably treated with more urgency, "but they are not unusual cases you couldn't predict". People she had spoken to since told her the experience was typical of Tauranga Hospital, but she felt bad for staff who gave them quality care and did not deserve the poor reputation, she said. She believed the problem was with how the department was run.
"Obviously there's a problem and I think [if] we keep encouraging people to come to the Bay ... the whole system needs to be able to cope with them." Pearl said there needed to be more money spent on staff.
In the latest Government-set health targets, Bay of Plenty DHB ranked 17 out of New Zealand's 20 boards for providing shorter stays in emergency departments. This translated to reaching only 89 per cent of the 95 per cent goal of admitting, discharging, or transferring a patient from an emergency department within six hours.
A board spokesman said emergency cases were assessed on arrival for the urgency of treatment and each case prioritised on this rather than arrival or wait time.
The spokesman said in a written statement 131 patients went to the department on Sunday, and 49 people from 8pm-6am. There were significant peaks of activity, including the arrival of 19 patients between 8pm and 10pm and another 14 between 11pm and 1am.
"The expected rate is more usually three to four an hour. Therefore, the ED staff were dealing with up to five to six times the normal number of patients during the busiest period."
The situation was further complicated by a life-threatening case at 10pm which diverted a large number of resources. The usual staffing for the department is two administration staff, four doctors and 10 nursing staff from 4pm to midnight, and two administration staff, two doctors and seven nursing staff from midnight to 8am.
"... whilst the delay mentioned exceeded the maximum time we would normally seek to achieve, the professionalism and performance of our staff was noted."
The board would not comment specifically on Ms Sarsfield's case because she had not lodged a complaint but the spokesman said it empathised with patient frustration at waiting for treatment.
"We would urge patients, before presenting, to consider carefully whether the ED is the most appropriate place to seek treatment and would like to take the opportunity to remind people that the ED should be for emergencies only."
Accident and Healthcare medical centre also provided services such as x-rays and is open every day from 8am to 9pm. Tauranga Hospital is the only place for x-rays after 9pm.
Hurt and not sure where to turn to?
*Life-threatening conditions, severe or rapidly worsening symptoms or major injuries call 111 or go to your nearby emergency department such as Tauranga Hospital.
*For minor illnesses and injuries visit a walk-in medical clinic.
*For infections or persistent symptoms visit your family doctor or health clinic.
*For everyday ailments or symptoms visit your local chemist.
*If you are unsure where is best to go, contact a 24-hour free health advice on 0800 611 116.