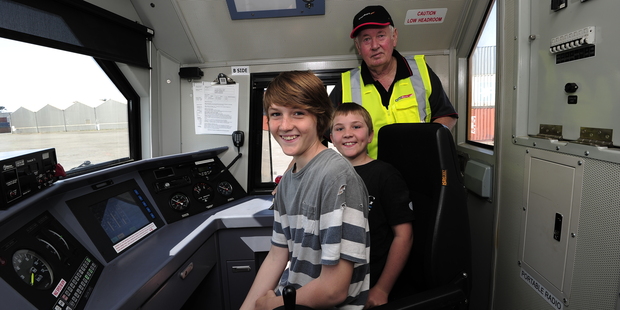 Taking part in the Locomotion was just one of many fun things to do at KiwiRail's 150th anniversary celebrations at Mount Maunganui.
The "Keeping NZ on the Move: The Exhibition Express" roadshow has been travelling around the country as part of the 150 years celebration for the national rail company and stopped in Mount Maunganui on Saturday. About 2000 people of all ages visited the exhibition held on Triton Avenue.
A KiwiRail spokeswoman said the day went well. "All the kids got in and did the Locomotion which was great.
"The biggest attraction was the new DL Locomotive but the biggest drawcard was the four containers which show KiwiRail's progress over the last 150 years. They are so interesting to look at."
Taking part in the event was locomotive engineer Bryan Campbell. The Mount Maunganui man has been working for KiwiRail for 54 years and is one of New Zealand's longest serving train drivers.
Mr Campbell said although he had been doing the same job since November 1959, it was still interesting as every day was a challenge. "Driving one of these compared to the old engines is like going from a Model 8 to a Rolls Royce. I enjoy it, it's a lot different than the old coal fired steam engines."
In his 54 years, Mr Campbell said he had driven everything and had been able to see the country. He said it was a shame rail was not more utilised.
From Mount Maunganui, the exhibition will be travelling to Stratford, Palmerston North, Wellington, Greymouth, Invercargill, Dunedin, Oamaru, Timaru and Lyttelton.