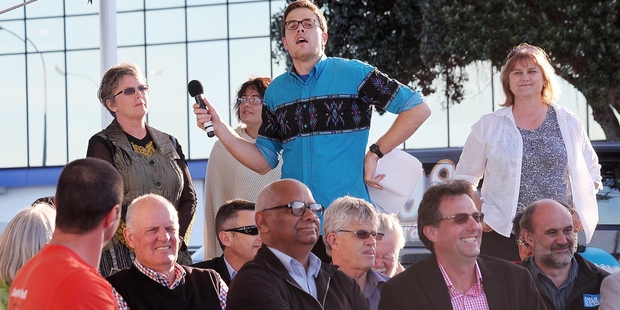 Young and old turned up to see comedian Guy Williams grill Tauranga City Council candidates at the most well attended election event so far.
About 200 people attended last night's Vote or Die event on the Tauranga waterfront hosted by the comedian.
Williams and The Edge radio station's Megan Sellers quizzed about 30 candidates on issues ranging from their preference for boxers or briefs to whether the council should invest in a a central city university campus.
During the light-hearted introductions Rick Curach told the crowd he preferred pop star Miley Cyrus to Katy Perry and Wayne Moultrie shared his preference for briefs.
The evening then kicked off with candidates holding up signs in answer to a round of quick-fire questions where hecklers quickly joined in the conversation.
Most candidates indicated curbside recycling should remain a user-pays service rather than be funded by rates but a member of the crowd voiced her disapproval by shouting "recycling's not a choice".
A spinning wheel was then used to select candidates who had one minute to answer questions about whether Tauranga needed a museum, whether the council invested enough money in events and whether the council should reduce rates or invest in the city.
Tauranga residents Adrian Seymour, 22, and Maurice Melligan, 23, made their way into the city specifically to hear what the candidates had to say.
"We care about what happens here," Mr Seymour said.
Mr Melligan said there needed to be more opportunities and facilities for young professionals.
"We have to take action. We can't just sit there."
Danielle Cubis, 32, had returned to Tauranga after spending time overseas and went along to find out more about the candidates before she voted.
"I don't know anything about anyone here and I'm a small business owner so I thought it was right that I come down and get to know them from a youthful perspective."
Voting closes at noon on October 12. Voting papers need to be posted by October 9.