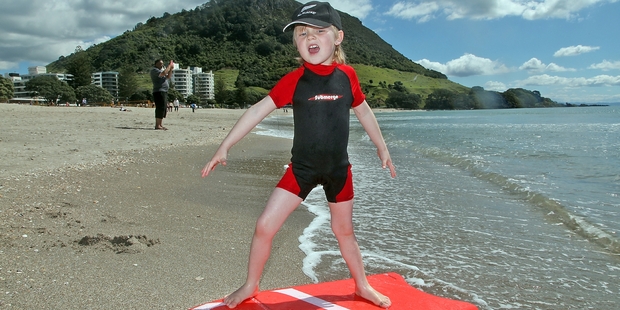 DIG out the jandals but keep the umbrellas handy - the next three months could be hotter and wetter than usual.
The Niwa seasonal climate outlook for October to December was released yesterday and estimates a 45 per cent likelihood temperatures would be above average. There was an equal chance temperatures would be average.
The coming months could also be wetter than usual, with a 40 per cent likelihood rainfall would be above average and an equal chance it would be at average levels.
Soil moisture and river flows were also sitting at a 40 per cent chance of being average or above average.
This came as good news for Bay of Plenty Federated Farmers president Rick Powdrell.
"More rain won't be bad, we've had it fairly dry in winter. Warm and slightly wet won't be a problem on the basis the farmers have fed out all of their supplements and will be looking to restock."
On March 6, drought was officially declared in the Bay of Plenty and extended through until the end of September to allow financial support for farmers.
The Minister for Primary Industries, Nathan Guy, said on Monday there had been a total of 146 applications for rural assistance payments nationally and $814,277.32 was paid in total.
Mr Powdrell said farmers should get good grass growth to help with drought recovery.
"There will still be some areas where water tables need to re-establish to normal levels so I would think there's no issue at all with that and if anything, it's slightly beneficial."
Mr Powdrell said everyone was feeling positive now the drought period had officially ended. "Prices are looking positive, we've had a very favourable winter and early spring. All product prices are lifting so farmer confidence is lifting."
Mr Powdrell hoped the rainfall would be well space with plenty of sunshine in between and not much wind.
"That would be ideal as far as pasture goes. A good, even spread of rain would be nice."
This week looked to be a great start to the school holidays, said Metservice meteorologist Dan Corbett.
"Tauranga is the place to be, it just looks gorgeous. I can imagine people wheeling out their boats and getting the picnic basket ready.
"Thursday and Friday will bring in a bit more cloud but apart from that it will be fine. There is a small chance for showers on Saturday."
Mr Corbett said yesterday's temperature was 21C and he expected temperatures to stay about 20C for the rest of the working week.