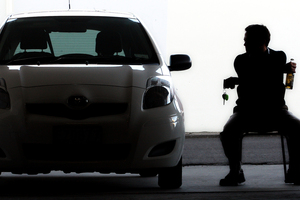 The number of drink-drivers caught in the Bay has dropped - but police say repeat offenders continue to be a problem.
New figures released to the Bay of Plenty Times show 619 were nabbed between January 1 and September 4 - 157 fewer than for the same period last year. Of those drivers, nearly three-quarters were male.
In 2012, 1255 drink-drivers were nabbed in this area, an average of 105 per month, with an almost 10 per cent drop in the percentage of young drivers being prosecuted.
The number so far this year has averaged 77 a month.
Bay of Plenty road policing manager Inspector Kevin Taylor said drivers aged under 20, who now have a zero level for breath-alcohol, seemed to be getting the message.
In 2008, they represented 27.2 per cent of all prosecutions, whereas that figure dropped to 18.2 per cent last year - a reduction of 300.
Mr Taylor said despite the drop, drink-driving remained a big focus for police all year.
During 2011 and 2010 there were a total of five fatal crashes and 41 serious crashes related to alcohol and drug-impaired driving on Western Bay roads, according to the Transport Ministry. The complete 2012 crash statistics were not available.
Mr Taylor said most people caught were not repeat drink-drivers but there was a small hard-core group who continued to do so.
"If people get caught they're either being incredibly arrogant or incredibly stupid, or both. My message is they need to do something about their alcohol problems, or face the consequences."
Mr Taylor said as part of the Government's 2020 safer journeys strategy, police would be continuing to focus on motorists' alcohol and driving habits, and that meant conducting more checkpoints, and breathalysing every suspected drink-driver.
"The Bay of Plenty has one of the worst drink-driving rates in country and to see the numbers reducing is good news. But while we appear to have turned the corner the battle is by no means won. The day it becomes completely unacceptable to drink and drive in this country can't come soon enough," he said.
Since last September 10, the courts have handed down 242 alcohol interlock sanctions to 220 offenders - including six in Tauranga District Court.
The New Zealand Transport Agency has issued 77 pink interlock licences nationally. A pink licence means they can only drive a car that has the breathalyser device fitted. Before the car can be driven, a person must blow into the device and it has to give a zero-alcohol reading.
Tauranga businesswoman Alison Hockly was sentenced to seven months' home detention last week after she was caught driving almost four times the limit in May.
It was her third conviction within five years.
Offenders such as Hockly have been granted approval to apply for the interlock licence, which must be used for a minimum of 12 months.
Transport Agency road safety manager Ernest Zollner said these sanctions were part of a concerted effort to reduce road deaths and injuries caused by drink-drivers.