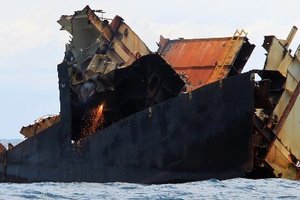 Maritime New Zealand has been asked to remove its drums of the toxic oil spill dispersant Corexit from a Bay of Plenty Regional Council storage shed at Mount Maunganui.
The request is the result of a joint approach by two of the Bay's local government leaders and regional councillor Paula Thompson.
It follows mounting public pressure to ban use of the chemical, which culminates with a "Ban Corexit" protest rally at the Mount Main Beach this morning.
Regional council chairman John Cronin said the council was storing 3200 litres of Corexit on behalf of Maritime NZ, at a shed which it leased from the Port of Tauranga.
"We are asking Maritime New Zealand to remove it from our premises. It is their product and we don't agree with its use, so we are asking them to store it somewhere else," Mr Cronin said.
About 3000 litres of Corexit was trialled in the early days of the Rena grounding but that was stopped after three days because it was not effective in the conditions. No other chemicals were used. Mr Cronin wants Maritime NZ to use a dispersant with less toxicity. He understood it affected wildlife.
Tauranga Mayor Stuart Crosby has joined forces with Mr Cronin and Ms Thompson to seek the removal of Corexit from Tauranga. He was also raising the issue with Transport Minister Gerry Brownlee and the MP for Tauranga, Simon Bridges.
Mr Crosby said another dispersant, Elastol, may be an alternative to Corexit. "But like any product we put into our environment, it would need to be safe."
Ms Thompson said she intended to follow up with Maritime NZ on the bigger issue of whether it would continue using Corexit. Although not qualified to offer an expert opinion, she understood there were safer alternatives.
"At the end of the day, we want to be seen to be allaying any concerns about having it stored on our site."
The regional council's natural hazards general manager, Ken Tarboton, said discussions were taking place between the chief executive of the council and Maritime NZ.
He said there were some environmental protection agency implications and the council had to make sure it was within its legal jurisdiction.
Mr Tarboton said Maritime NZ had the legal jurisdiction to use Corexit where they saw fit and the council could not trump that jurisdiction.
Maritime NZ's safety and response manager, Nigel Clifford, said discussions would continue next week on the storage of its dispersants in Tauranga.
He said Maritime NZ worked closely with health authorities throughout the Rena response and no reports were received of any cases of ill health linked to either the oil or Corexit.
Mr Clifford said they regularly reviewed new information and studies on dispersants, such as peer-reviewed scientific information on the use of Corexit in the 2010 Gulf of Mexico oil spill.
"MNZ has not received any scientific data, or advice from overseas oil response agencies, that would indicate a specific review of Corexit is necessary." Dispersants were used only when the environmental risk posed by an oil spill was greater than the risk posed by the dispersant.