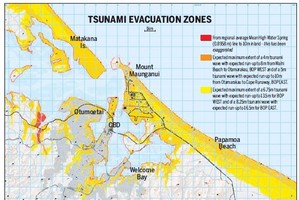 A new tsunami inundation map for Tauranga shows there are more safe havens for people living along the coastline than originally thought.
The map, commissioned by the Tauranga City Council, indicates pockets of land at Mount Maunganui and Papamoa - including the Mount industrial area and parts of Papamoa East - previously thought to be at risk are likely to be high and dry should a large tsunami strike.
Paul Baunton, Tauranga City Council manager: emergency management and safety, told the Bay of Plenty Times Weekend that according to the new map, safe refuge from tsunami floodwaters could be just a 20-minute walk for some people.
"The work that has been done should give people more confidence. The picture starting to emerge is a better looking one," he said.
The new map takes a more detailed look at the topography of the coastal strip, mapping how deep and fast flowing the water would be in different areas, in the event of a worst-case tsunami with wave heights up to 14m.
Such a tsunami, triggered by a massive slip in the Kermadec Trench, could hit the Western Bay's coastline in as little as 50 minutes.
Using sophisticated modelling technology, the new map was commissioned, at a cost of about $50,000, to enable the council to plan quicker and more accessible evacuation routes. "It's so we can put options together for the community," Mr Baunton said.
But it is yet to be reviewed and accepted by the Bay of Plenty Civil Defence Emergency Management Group as an official evacuation document.
For the time being, the official evacuation map is that developed by the emergency management group in August 2008.
Mr Baunton hoped the new map, by Tonkin and Taylor environmental and engineering consultants, would be reviewed and accepted by November, at which point the council would proceed with Stage 2 of evacuation route planning.
Stage 2, at a cost of a further $50,000, would take a localised look at where people could go to escape a tsunami, including existing landforms and buildings, and the quickest ways to get there.
The information would also be used to work out where new evacuation infrastructure may be needed.
"What they're looking like we don't know yet. It could be walkways, bridges, buildings, local vertical places to take people to," Mr Baunton said.
If Stage 2 proceeded, detailed information for each neighbourhood would be available within six to 10 months.
Bay of Plenty Civil Defence emergency management group controller Clinton Naude said the management group supported the work by Tauranga City Council.
Tauranga City Council had been advised that their approach should be consistent with the national standards set by the Ministry of Civil Defence Emergency Management, and the peer review of this work was part of the process to ensure that this was the case, he said.
The timing of a decision would be dependent on how long the peer review took.
"Once this information has been submitted to the Bay of Plenty CDEM Group and it identifies that the work meets the national criteria and standards, we would be satisfied that it is suitable to be used for evacuation mapping," he said.