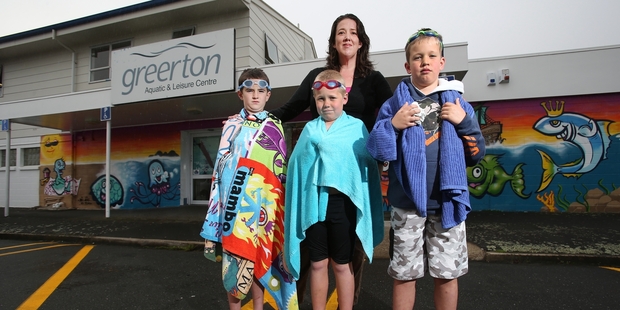 A Tauranga pool has apologised for telling three children they could not use the public lane to improve their swimming under the instruction of a family friend.
The Bay of Plenty Times yesterday reported that Greenpark School students Alex Cook, 8, and his friends Brock Parker and Jack Childs, both 9, were told they could not swim laps in Greerton Aquatic and Leisure Centre's public 25m swimming pool until after 7pm because family friend Kristie Purton was on the side of the pool giving advice. Pool staff told the group it was classified as a lesson.
Staff from Bay Leisure and Events, the Tauranga City Council-controlled organisation which runs the pool, yesterday called Alex's mother Sarah Cook to apologise.
Organisation chief executive Gary Dawson said Greerton pool staff incorrectly applied a policy which was meant for paid lessons.
"It's more around when you have a professional swimming coach who might have five to six students in a pool and is being paid for it and is using a public lane, because the general public is inconvenienced," he said.
The situation had been explained to staff and training around the correct interpretation of the rules would be provided. An apology had been made to the Cook family and a formal letter and family passes to Baywave were being sent to them.
Mrs Cook said she was pleased with the outcome. The boys were already back into it yesterday after school, she said.
"I'm hoping that the boys can go in and Kristie can help them. Hopefully nobody else will have the same problem."