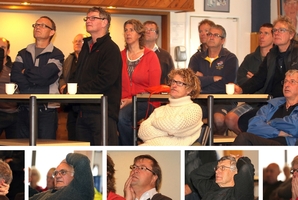 Shifting winds on the America's Cup course dashed the Tauranga Yacht and Power Boat Club's hopes of a fantastic opening to its 94th season yesterday. The opening breakfast attracted about 120 members but, with the writing virtually on the wall because of the shifting southerly front in San Francisco Bay, club member Stuart Pedersen said the postponement of racing meant they missed out on a memorable opening.
"It would have been a fantastic start to the season _ we'll just have to turn up tomorrow.''
It's a routine Kiwis around the world have been getting used to over the past week as the anticipation grows.
There's no doubting our fascination with the Auld Mug _ the world's oldest sporting trophy. But is the passion, hype and wave of feel-good patriotism worth millions more in direct taxpayer investment? Lydia Anderson reports.
Cup fever
For the past two weeks a strange phenomenon has swept through the country, a syndrome striking Kiwis from all walks of life.
America's Cup fever lies dormant for years at a time before erupting with a roar of "Go you good thing go!" as Emirates Team New Zealand battles for supremacy on the water.
This year's campaign has had all the tension of a prime-time TV drama and action-packed showdown. It included courtroom battles, old rivalries, cheating allegations and those fantastical, dangerous boats pushing sailors to the limit.
But with $36 million of taxpayer money bankrolling the campaign, many commentators have questioned if the investment has been worth it - whether a win could justify the spend.
Just two months ago Prime Minister John Key said New Zealanders were probably finding the two-horse Louis Vuitton Cup challenger series between Team New Zealand and Italy's Luna Rossa "tiresome" after Luna Rossa protests regarding late rule changes saw the Kiwis take to the water alone for the opening race.
But there's been no sign of that fatigue since the America's Cup races started between Team NZ and Oracle Team USA in San Francisco.
TV viewership figures have skyrocketed during the campaign. More than half a million Kiwis tuned in to watch the opening races, which rose to almost a million on September 15 when race eight saw Team New Zealand almost capsize, nearly ending their campaign.
Cup history
Our love affair with the Cup stretches back to 1987 when New Zealand's first challenge, with KZ7, ended in defeat against Dennis Conner in Louis Vuitton Cup. Merchant banker Michael Fay then issued a direct challenge to the defending American team headed by skipper Dennis Conner.
Fay's monstrous 90-foot yacht KZ-1 was no match for Conner's smaller, lighter catamaran , which won the 1988 San Diego series easily.
The contentious campaign was remembered for the courtroom dramas surrounding the mismatch of boats, and the lack of friendly competition between the two countries.
After such a tumultuous start, it was a welcome relief in 1995 when Team NZ's "Black Magic' campaign headed by Sir Peter Blake and Russell Coutts returned to San Diego to thrash Conner's Stars and Stripes 5-0.
It's been hailed as one of the proudest moments in New Zealand sporting history.
Even visiting American movie star Michael J Fox couldn't contain his excitement, holding up a pair of Sir Peter Blake-inspired "lucky red socks" at a 1995 press conference.
After 2000's successful Team New Zealand defence against Italian team Prada in Auckland, and yachting commentator Peter Montgomery's cry of "the America's Cup is still New Zealand's Cup", national pride in Blake and his boys could not have been higher.
All that was about to unravel, however, when skipper Russell Coutts, at the time enjoying hero status, announced his defection to Swiss team Alinghi, taking several experienced Kiwi sailors with him. Despite new captain Dean Barker and team boss Grant Dalton's best efforts, successive campaigns against Alinghi in 2003 in Auckland, and 2007 in Valencia, failed to win the Cup.
However since the 2007 series was such a close finish, the then Labour-led government pledged $36 million towards a future campaign.
2013 campaign
This year's campaign has seen the same old unsportsman-like bickering between teams, and bitterness toward Coutts resurface in his role as Oracle chief executive.
There were the cheating fines and two-point penalty against Oracle for illegal modifications made to a boat in the 2012 America's Cup World Series. Then came cries of "they can't hack the competition" when Oracle postponed race six against Team New Zealand to work on their boat and rejig their crew lineup.
The incredible speed of the mammoth AC72 catamarans used this year has added punch to the race-day wow factor, never mind that the technology and expense of the boats pushed many yachting syndicates out of contention, with only three lining up to compete in the challenger series.
The danger of the super yachts was highlighted when Swedish Louis Vuitton Cup challenger Artemis Racing crewman Andrew Simpson died after the team boat capsized during a training session in May.
Rather than turning viewers off, the added danger seemed to make races more thrilling as audiences realised crews were putting their lives on the line.
As the America's Cup got under way, Team New Zealand's early success against Oracle reignited the old Cup fever among Kiwi fans, who held their collective breath as the Americans fought back and races came down to the wire.
Tourism Industry NZ chief executive Martin Snedden says there's no doubt the Cup resonates with Kiwis.
The tournament unites the nation because competing in or hosting such a large-scale event has a "nice rub-off effect on our people" in terms of self-esteem.
"We are a sporting nation and we want to win. There's a competitive instinct there and I think this one's been spiced up nicely by the history of Russell Coutts and how that all fell apart in 2003.
Looking ahead
Thoughts inevitably turn to New Zealand hosting a future campaign and potential economic spin-offs.
A 2003 economic impact report commissioned by the Ministry of Tourism found Team NZ's unsuccessful Cup campaign that year generated $529 million.
In the lead-up to the 2003 competition, the biggest spenders were the 10 syndicates including Team NZ, which spent $224 million; superyachts and other yachts ($155 million); and international visitors ($49 million). But ANZ chief economist Cameron Bagrie says he treats economic impact figures across all sporting events with scepticism.
"We know it's going to be a positive number, I'm just a little bit sceptical about putting a precise figure on it because there's too many variables."
There are three effects to be mindful of, he says.
The anticipation of hosting a defence helps keep our economy in a "feel-good mood"; any economic impact will be positive; and hosting the event could prove a catalyst for getting infrastructure projects done.
Prime Minister John Key had earlier said any defence of the Cup in New Zealand was likely to get taxpayer backing from the Government to the tune of more than $40 million. "I think the Cup would bring the Viaduct bursting back into life once more as it did a decade or so ago."
But an Otago academic is questioning whether more taxpayer money should be invested in a private yachting syndicate. University of Otago professor Steve Jackson, who specialises in the socio-cultural analysis of sport, says the teams, including Team NZ, represent private yacht clubs and corporate brands, not nations.
The fact Team NZ is a private enterprise should be considered when the Government makes future decisions about financial support, he says.
"Investment in education and healthcare is going down and yet they have got the money to put into a private enterprise ... $36 million would go a long way in health and education."
For Martin Snedden, several factors need to be considered in order for New Zealand to host a successful Cup defence.
Guaranteeing a minimum number of participating teams and the time of year it takes place are paramount, he says.
The 1995 Cup campaign stood out because of teams' national alignment, so introducing rules about crew nationality requirements would enhance the event and public interest "if they thought that it was country against country instead of corporate against corporate".
Cost of entry also needs to be reduced significantly to allow more teams to compete.
"If they don't get a lot of teams competing, then the economic benefit for New Zealand will be much lower. If it's much lower, why should taxpayer money be involved?"