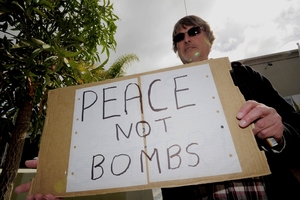 The organiser of a Tauranga rally for peace in Syria says he will continue to speak out despite fewer than five people attending the event.
Colin Thew organised the rally at Red Square in conjunction with other peace rallies held throughout New Zealand and the rest of the world.
Mr Thew was not put off holding another rally next weekend despite only four people turning up.
"There was only a small number of us but it went really well.
"We're going to continue each weekend. We encouraged some people to come along next weekend and got some really good support, especially with the young people. We decided on Saturday that we would keep going regardless, but hopefully our numbers will pick up."
Mr Thew said he was not concerned if next week's rally was just as small.
"If we get a dozen I'll be happy, if we get 50 I'll be delighted. There hadn't been enough publicity, and once the message gets out there hopefully more people will turn up.
It's an improvement from last week where I was the only one.
"It's not a big deal that there's not many people attending in Tauranga because it's a small part of a much bigger worldwide event."
Mr Thew said he had started the rally as he did not think New Zealand should support the United States intervening in the civil war in Syria.
"I'm pro peace. When I heard that the US was planning to intervene in the war in Syria, my alarm bells went off. I discovered there were rallies going on around New Zealand so last weekend I organised one here.
"We need to raise awareness about the situation here in Tauranga, I think most New Zealanders wouldn't want their country getting involved in the Syrian war."
Other rallies were held worldwide against war in Syria including an event at Vatican City where an estimated 100,000 people took part.
The protest came as US President Barack Obama and Russian counterpart Vladimir Putin have failed to end their bitter dispute over US plans for military action in Syria, as half of the G20 called for a "strong" response to a chemical weapons attack blamed on the regime.
Obama said that the world could not "stand idly by" after the Syria chemical attack but Putin warned that it would be "outside the law" to attack without the UN's blessing.
For updates on the Tauranga rally, visit www.facebook.com and search for No War With Syria Rally Tauranga NZ.