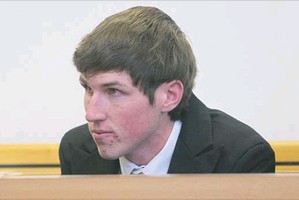 He bribed underage teen girls with booze, drugs and cell phone top- ups after targeting them on Facebook and then had sexual encounters with them.
His predatory and "unsavoury" crimes left one girl so traumatised she resorted to cutting herself to remove "the bad stuff".
But even when he was days away from being sentenced, Alexander William Power could not help himself and was caught making contact with another girl under 16 by using his cellphone.
Power, 21, an aircraft engineer, was sentenced in Tauranga District Court yesterday after earlier pleading guilty to 27 charges. The offences included multiple counts of sexual conduct and indecent assault with a person aged 12-16 years, and meeting up with a young person under 16 for the purpose of sexual grooming.
The crimes occurred in the Coromandel and Tauranga in 2012 and this year and included Power having intercourse with two of his victims.
One of the victims was aged 13 when the offending began and the other three girls were aged 14.
Power, described as a "hard worker and a good son", met his victims on Facebook, after trawling for girls aged 12 to 14. Despite the victims confirming their ages, Power began "sexting" them and persuaded the girls to send him nude photographs of themselves in exchange for cellphone top-ups.
He bribed them with promises of alcohol and cannabis to meet up with him. Power also sent his victims nude photographs of himself.
The full impact of his offending became apparent after one of his victims broke down in court while reading her victim impact statement.
"I felt real dirty and couldn't wait to have a shower . . . I started self-harming by cutting myself and doing smilies (burning) on my skin," she said in her statement. "I felt so bad about it I tried to cut out the bad stuff."
The mother of another victim addressed Power before he was sentenced. She said she was angry he had taken her daughter's innocence, and was concerned there was inadequate protection mechanisms to prevent it happening to other children.
Judge Ian Thomas, who sentenced Power to two years 11 months' jail and ordered him to pay $4000 reparation to two victims, described his offending as "predatory".
"This offending was a totally unsavoury business. You deliberately targeted 12 to 14-year-old girls. You may have some social deficiencies but this was serious predatory sexual grooming before other indecencies. It beggars belief that these girls became involved with you, but that is the illicit nature of this type of offending."
As Power left the court to start his jail sentence, some of the victims yelled abuse at him.
Outside court, one victim's mother called for more education in schools about the risks of social media, especially Facebook and cellphones. The mothers of two victims told the
Bay of Plenty Times Weekend other parents should stay vigilant. One said: "I was completely in the dark. I thought as a parent I had everything covered but I still wasn't able to protect my daughter from this predator."
The officer in charge of the case, Detective Helen Beck, urged parents to keep a close watch on their children's use of internet, social media applications and cellphones.
"It's not just Facebook but it's Quix and Skype and any other type of electronic communication device," Ms Beck said. "Parents need to keep a close eye on what their children are doing, who they are communicating with and meeting up with, and who their Facebook friends are."
She urged parents to go through their children's Facebook page and remove any friends they don't know and to check their bank accounts regularly.
If anyone has any concerns they should ring the police, she said.