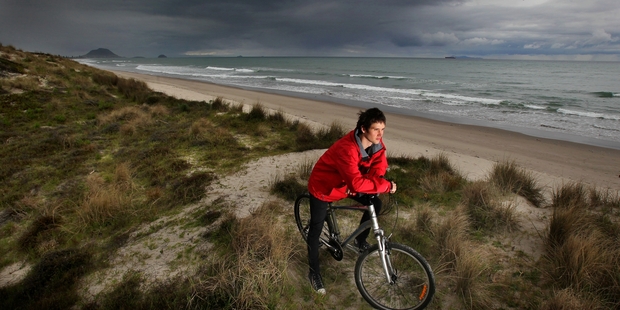 A milestone has been achieved in Papamoa Rotary Club's plan to build a gravel walkway and cycleway through 6.5km of sand dunes.
The Tauranga City Council voted 8-3 in favour of the dunes trail remaining in the management plan that controls what can happen on the city's coastal reserves.
Club spokesman Warwick Thorburn was delighted by the support even though the project still depended on the council agreeing to the final proposal and it getting resource consent.
"We are delighted that the dunes trail is now a probability."
It clears the way for Rotary to start work in earnest on the plan which will be based on the 19km dunes section of Opotiki District's Motu Track.
The trail was planned to run from Logan Rd to Taylor Reserve, following existing well-defined walking tracks through an area where the dunes were 180m to 250m wide.
Mr Thorburn said finding an "indicative" trail would be the starting point for consultation with interest groups and the community. The process would kick off later this year.
Rotary was looking at a track wide enough so people could pass each other, whether it was someone pushing a pushchair or on a bike.
The trail would follow the natural contours of the dunes, with coastal views at the high points. If it followed the Motu construction blueprint, the track would be excavated to a maximum depth of 150mm and be closer to the road than the beach.
Mr Thorburn wanted the trail to be a place of beauty, fun, relaxation and education, with DoC and Historic Places educational signs.
So far they had not done any costings, but he was encouraged by the strong support Rotary had received.
Morgan Moore, of Mount Maunganui bike shop Cycle Obsession, said if it was anything like the Motu Track, then a lot of locals would use it.
They were selling more and more bikes to older recreational and fitness cyclists looking for something with less impact on their joints than jogging.
"It will be more of a fitness and scenery thing than a technical track," Mr Moore said.
Cyclists could use it in conjunction with the existing track that ran alongside Papamoa's Wairakei Stream. He saw the trail becoming a tourist attraction and popular with holiday makers. "It will cater for all types of people."
Councillor Larry Baldock supported the trail, saying although Papamoa hapu Nga Potiki initially had concerns, it had changed its mind and wanted to get involved for the benefit of everyone. Councillor Terry Molloy said the track would help protect the dunes.
Councillor Catherine Stewart opposed, saying it was a sad day when they started destroying the natural values of the dunes. The dunes were a buffer for storms and she was surprised Nga Potiki was willing to have a cycle trail. "We are meant to be guardians of the environment."
Also opposed were councillors Murray Guy and Rick Curach.