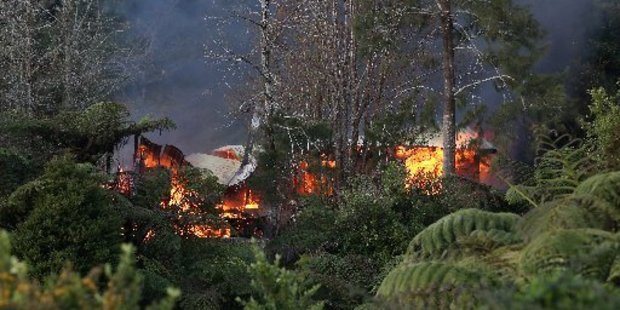 Detectives will today examine the charred remains of a house that burned to the ground after an armed stand-off between police and a man at a Lower Kaimai property.
The 41-year-old man suffered burns to his torso and hands plus lacerations to his throat and wrists after a failed negotiation attempt by police last night.
The man hindered police and firefighters from gaining access to the property, police said.
Western Bay of Plenty police Inspector Karl Wright St-Clair said an officer was flagged down by a member of the public about 4.30pm yesterday, after a fire was seen at a property off State Highway 29, on Ruahihi Rd.
"When the officer attended, there was a person there who was unco-operative and armed with a weapon," Mr Wright St-Clair said.
The Tauranga Armed Offender Squad was then sent to talk with the man, but he was not in a state of mind to co-operate, Mr Wright St-Clair said.
"As soon as the Armed Offender Squad members arrived, they tried to negotiate but they were unsuccessful and had to take him into custody."
Mr Wright St-Clair said there were varying reports of a weapon the man was brandishing. A complete scene examination would begin from first light today, where police hoped to glean more information about the incident.
The man was believed to be the only person at the house, which was razed as he was taken to Tauranga Hospital for treatment to his injuries.
Fire ripped through the house, spreading to a car parked in the driveway and boat nearby. By 6pm, most of the house had collapsed and the car was destroyed.
Tauranga firefighters attended but had to hold back once they learned a gas tank was inside the property. Passers-by and media were warned to leave the scene in case the tank exploded.
Tauranga senior station officer Kevin Cowper said it was too dangerous for firefighters to go inside the house because of an old LPG tank.
Firefighters let the house burn but ensured it did not spread to powerlines, trees and bush.
Pyes Pa resident Nic Rose saw emergency services speed past and followed: "When I got here the whole thing was huge. Flames were like three to four times the house. It was real bad."