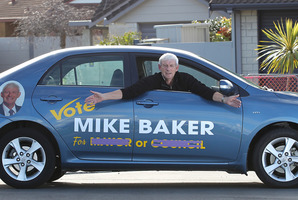 Tauranga mayoral contender Mike Baker has been told to cover up election messages on his car after he jumped the gun for election signs by nearly a month.
He is dismayed by council rules that prohibit candidates from putting out their signs until September 14 - only six days before election papers start to be mailed out.
Mr Baker said it was virtually impossible for new candidates to promote themselves because a lot of people voted almost straight after their voting papers arrived in the mail.
"It is pretty draconian. It makes it a bloody sight harder for wannabes."
Mr Baker, who is also campaigning for one of the at-large seats on the council, has covered up the key words "the mayor" and "the council" in an effort to keep within the rules.
He agreed that leaving the words "Vote Mike Baker for" could be be pushing the boundaries and said he would reconsider the word "vote" if he was threatened with a $500 fine.
Mr Baker said election signs were mushrooming in Auckland and Rotorua and he feared that the late date in Tauranga would impact on polling and result in an even lower voting return than 2010's 43 per cent.
The council ordered him to remove his election advertising this week after it received a complaint about his car parked in Turret Rd.
Mr Baker explained he had failed to correctly interpret the rules. He thought that by signwriting his car, his vehicle was the same as all the other cars that had advertising on them.
Gail McIntosh, another Tauranga council candidate who has adorned her car with election signs, has not yet been told to remove the words that refer to the election. Until that happened she would continue to leave the lettering in place.
She said it was hardly democracy to only allow six days for signs prior to the voting papers going out.
"I thought six days must be a misprint."
Mayor Stuart Crosby said the rules on signs in public places were the same for everybody. It was not appropriate for him to comment on another candidate's problems with the rules.
He said all candidates were given a handbook which included signage rules, and if there was an issue it could be addressed before the next election.
Mr Crosby said there were various techniques for candidates to get their messages out. He did not agree that September 14 was giving sitting councillors an advantage because they had higher profiles.