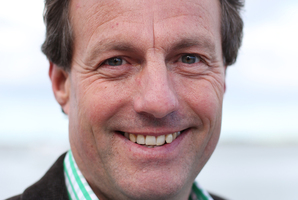 High-ranking new Tauranga councillor Kelvin Clout has scaled down his pre-election call for a "debt crisis summit" but still wants a meeting of key people to examine financial issues focusing on debt.
Mr Clout, who came within 506 votes of winning the leadership of the city from Stuart Crosby, said the summit would have happened if he had won the mayoral election. "I will still be pursuing something like that, but maybe not as larger deal than if I was the mayor," he said.
He emerged a comfortable winner in the Te Papa/Welcome Bay Ward contest, deposing Terry Molloy and relegating Councillor Bill Grainger to a distant second. It was part of a huge dumping by voters of all but three of the old council.
Mr Clout said the complexity of the financial issues meant he wanted the outcome of the meeting on debt to be communicated back to the public in a way that was easy to understand.
He wanted a clear picture of how the debt had accumulated and some choices so that people could understand the implications of addressing the problem.
His original vision for the summit was similar to the National Party's job summit when it first took power.
It would have involved 50 to 60 people lasting at least one day, with breakout groups focusing on issues like Route K and the Southern Pipeline.
"It would have been quite a large deal - the reality may be something smaller than that."
Mr Clout was troubled by the deal in which the council was proposing to take over the cost of four laning Turret Rd and 15th Ave from the New Zealand Transport Agency, including building a new bridge.
With the cost estimated to exceed $50 million and the council's debt, he said the widening would very likely not happen if the deal went ahead.
Mr Clout said it sounded like the council was letting the Government off the hook.
The Government's original promise was to spend $100 million on the Hairini Link project, including the underpass to Welcome Bay and the road widening.
Other topics for the summit would have included reviewing council operations and services in order to cut costs and drive efficiencies; and the precedence given to "nice-to-haves".
He liked Mr Crosby's idea for a new committee that had an in-depth focus on council finances.
Mr Clout stood by his pre-election statement that the council needed to urgently address its massive debt. If there was no meaningful rationalising of council budgets and interest rates started to rise, the only option left would be large rate increases.
"These are major issues which will require careful consideration and full consultation."
He declined to comment on whether he would accept the job of deputy mayor. During his campaign, Mr Clout made it clear he would have time to do the top job because he had good management in his manufacturing business.