Mother's Day news painful for Sean Marks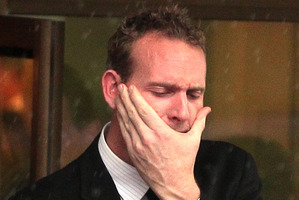 New Zealand basketball's biggest name, Sean Marks, has farewelled his mother Sheila who died suddenly on Mother's Day.
Sean, the first New Zealander to play with the professional ranks of the NBA in the United States, flew back from San Antonio to attend the funeral on Friday.
Sean was 17 when he left for a US basketball scholarship to the University of California, Berkeley, where he studied political science as well as playing ball. That would have been a wrench for any mum, but Sean said Sheila knew it was his chance to fulfil his life-long dream of playing elite basketball.
"Goal-setting was a huge thing I learned from my Mum. She always said, 'Write down your goals and cross them off as you achieve them'. I still do that to this day," said Sean, who has retired from playing but is now director of basketball for the San Antonio Spurs.
He said the day she died, his mother had been gardening with his father, Greg, at the family home in Torbay, Auckland.
"It was a beautiful day on Sunday, Mother's Day." Sheila, 66, and Greg were at opposite ends of the house briefly. "Dad found her lying down outside. By then she had suffered from a mitral valve prolapse, which is a heart failure. When he found her, it had only just happened."
There had been no sign that anything was wrong with Sheila, who was a computer skills teacher.
"She was in great shape, in great health and full of life. I think that's what makes it difficult, none of us had a chance to say goodbye - there was no warning." Sean, 37, said the fact she died on Mother's Day would make that day even more poignant.
In her prime, Sheila was a top swimmer and had swum fast enough to qualify for the 1964 Tokyo Olympics, but decided not to go.
"I probably got from her my competitive nature and the drive. She was extremely determined. She was very good at everything she did and worked very hard."
That's not all he got from her.
"Sheila was five foot 11 [182cm]. She loved being tall. She loved it. She carried it well."
The whole family is tall: Greg is 191cm, Sean is 208cm and his younger brother Tony is 203cm.
Tony lives in London and is getting married in six weeks.
"It's a shame Mum won't be there physically but we all know she'll be there spiritually," said Sean who, with his wife Jennifer, has four sons aged 6 months to 9 years.
Her funeral was held at St Mary by the Sea Anglican Church in Torbay.